Massage for pregnancy & childbirth, more commonly known as prenatal massages, are therapeutic massages that are scientifically proven to aid in depression in pregnant mothers, labor pains, and childbirth.

There are various research studies that focus on the benefits of prenatal massages, but none have advocated its advantages more than Dr. Tiffany Field, the leading expert in pioneering the field of medical research for massage therapy and its link to childbirth and pregnancy. Dr. Field of Touch Research Institute in the University of Miami Medical School, Florida, and Fielding Graduate University, has already provided a surreptitious amount of medical research data on how massage therapy improves the overall health of the newborn baby (2009a), how they can alleviate the pain in pregnant women (2007), and how they could positively affect depressed pregnant women (2004).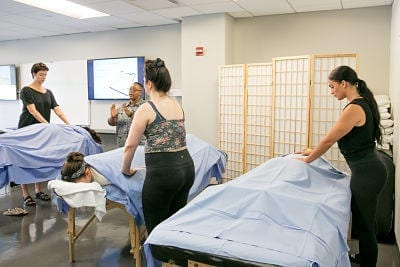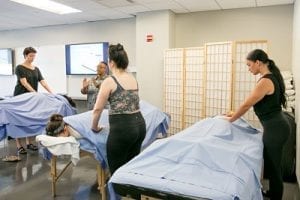 Other benefits include decreased pain and anxiety during childbirth (1997, 2010); shorter labor and hospital stay by an average of three hours and decreased necessity for medication (1997, 2010); improved fetal movement while in mid-gestation through vibratory stimulation (2002), and lessened norepinephrine (stress hormones) and anxiety during pregnancy as well as fewer postnatal and obstetric problems afterwards (1999).
Interested in becoming a certified massage therapist?  Visit the campus web site nearest you:

San Diego massage therapy school

Chicago massage therapy school
After having 30 minute massages twice a week for 4 to 5 weeks, researchers (e.g., Field et al., 1999; Field et al., 1997; Hernandez-Reif, Field).have noted that there have been sustained physical and psychological changes as compared to people who did not get massages (Kuhn, Jones, Krause & Curtin, 2004).

Another positive benefit with massage for pregnancy & childbirth is brought about through the combination of massage therapy and psychotherapy. In 2009, Field, along with other researchers, conducted an experiment with 112 pregnant women that were clinically depressed; they were then randomly assigned to separate groups: one received massages along with interpersonal psychotherapy, while the other received psychotherapy alone. It was reported that those who belonged to the former group either had a better attendance record or completed the sessions altogether, had lesser chance of being affected by somatic-vegetative symptoms and had lowered cortisol levels, leading to a decrease in the excessive fetal activity, and an overall decrease in the rate of prematurity (2009b).

Prenatal massages are safe so long as precautions would be taken (i.e. avoiding inflamed, sore or infected parts of the body etc.), and that trained therapists will be the ones who administer the massage. As Kuhn et. al. wrote, "Massage therapy is acknowledged for its promotion of wellness and as a technique that supports a lifestyle change in the journey from illness to a healthier, whole person. As a result of the current training and certification processes required for therapists, massage therapy has improved in quality and recognition as an alternative treatment modality (2004)."
Sources:

Kuhn, M., Jones, C., Krause, C. & Curtin, K. (2004). Massage therapy: Clinical applications for individuals dealing with multiple chronic conditions.

Field, T., Hernandez-Reif, M., Taylor, S., & Quintino, O., & Burman, I. (1997). Labor pain is reduced by massage therapy. Journal of Psychosomatic Obstetrics and Gynecology, 18, 286-291.

Field, T., Hernandez-Reif, M., Hart, S., Theakston, H., Schanberg, S., Kuhn, C., & Burman, I. (1999). Pregnant women benefit from massage therapy. Journal of Psychosomatic Obstetrics and Gynecology, 19, 31-38.

Field, T., Diego, M., Dieter, J., Lecanuet, J., Hernandez-Reif, M., Beutler, J., Largie, S., Redzepi, M., & Salman, F. (2002). Fetal activity following vibratory stimulation of the mother's abdomen and foot and hand massage. Developmental Psychobiology, 41, 396-406.

Field, T., Diego, M., Dieter, J., & Hernandez-Reif, M. (2004). Depressed pregnant women benefit from massage therapy.

Field, T., et al. 2007. Massage therapy reduces pain in pregnant women, alleviates prenatal depression in both parents and improves their relationships.

Field, T., Diego, M., Hernandez-Reif, M., Deeds, O. & Figueiredo, B. (2009a). Pregnancy massage reduces prematurity, low birthweight and postpartum depression. Infant Behavior & Development, 32, 454-460.

Field, T., Deed, O., Diego, M., Gualer, A., Sullivan, S., Wilson, D. & Nearing, G. (2009b). Benefits of combining massage therapy with group interpersonal psychotherapy in prenatally depressed women. Journal of Bodywork and Movement Therapies, 13, 297-303.

Field, T. (2010). Pregnancy and labor massage therapy. Expert Review of Obstetrics and Gynecology, 5, 177-181.