By Kiera Nagle
I believe massage therapy has a ripple effect–a radiating energy, an extension of our clients' own healing processes, on through to the other humans within their circle. In our work with pregnant clients, this connection is even more obvious, and infinitely rewarding. When we work with a woman who is carrying another human inside her, we are essentially working with two people simultaneously. As practitioners of touch therapy, we must be fully present to be mindful of that fact. Part of our role as therapist is to educate our clients (and other health care practitioners) about the many benefits of prenatal massage that purposeful bodywork engenders for both the mother and the baby.
For all of our clients, stress can contribute to, and exacerbate, a variety of physical and emotional conditions in the body. In general, massage can reduce stress in the body by decreasing muscular tension, releasing the fascia, increasing circulation and respiration, and eliciting a parasympathetic nervous system response: relaxation. These effects are especially important for our pregnant clients, as the rapid and profound physiological changes they experience can produce stress and anxiety, in addition to having a major impact on all the body's systems from musculo-skeletal to cardiovascular and digestive. In 2015, there is an abundance of research available that supports the efficacy of massage for the treatment of pregnancy-related symptoms, postpartum depression, and infant development. Much of this research has been conducted at Touch Research Institute at the University of Miami School of Medicine, led by Director Tiffany Field, PhD.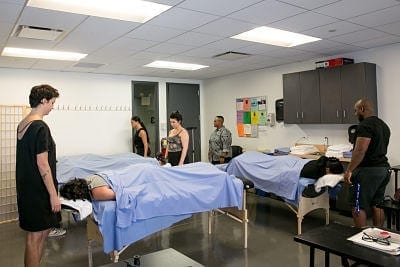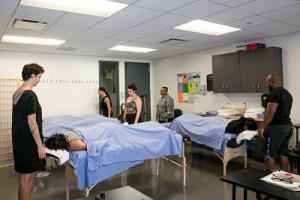 The benefits of prenatal massage can address specific symptoms unique to pregnancy. By decreasing chronic muscle tension, we can help to restore our client's postural balance and reduce back pain. By increasing blood and lymph circulation, we help to expedite the delivery of nutrients to tissues, and the elimination of waste from the body; this can also reduce swelling and support a healthy in-utero environment. With the incorporation of breath work into the session and massage techniques that relax the respiratory, we can assist the client to breathe more deeply, which in turn delivers more oxygen to the fetus. When we apply acupressure at specific points, we can help to disperse excess and nourish deficiencies, both physical and energetic. On the psychological/emotional level, our client's experiences of touch therapy during her pregnancy can help increase her awareness of her body, and deepen her connection to her experience of this human phenomenon. A closer and more positive relationship to her body, and her self, fostered by the massage experience, can help prepare her physically, mentally, and emotionally for the labor process.
Through massage and other supportive modalities, we can elevate our perception of pregnancy, by supporting women's bodies and helping them to create positive associations with action and language. We can encourage our clients, sisters, significant others, and friends who are pregnant to take the time to take care of themselves during each stage of the process. New mothers who do so will likely find themselves in a better state to take care of their babies. While in popular culture massage may still be perceived as a "treat", a special or extraordinary experience, we can educate women to consider that integrative health care is not pampering, and should not be seen as a luxury.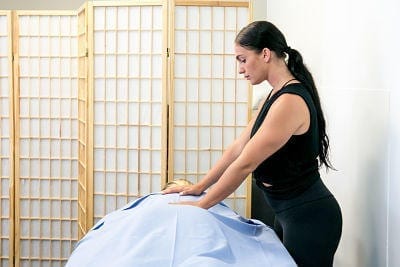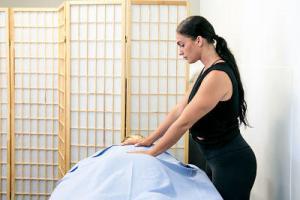 As a teacher, I am often asked a range of questions from both ends of a spectrum: those of a highly precautionary nature that fear working with prenatal clients out of concern for harm; and those on the other end, that attempt to downplay or disregard some of the cautions that are indeed necessary to consider for massage during pregnancy. I created my MaMassage™ classes to address both ends of that spectrum and the range of content in between as well. Pregnancy is not a disease or an illness and should not be treated as such, but it is a special condition that requires a deeper investigation of anatomy, physiology, and techniques. I advocate that practitioners who work with prenatal clients do pursue continuing education for these reasons. There are some cautions such as specific acupoints that we need to avoid, and it is absolutely necessary to have a working knowledge of high-risk conditions. The benefits of prenatal massage training, however, is not only about what you can't or shouldn't do with a pregnant client. It also provides insight into the various techniques and special positioning that can be used to address the common discomforts of pregnancy.
Interested in becoming a certified massage therapist?  Visit the campus web site nearest you:

San Diego massage therapy school

Chicago massage therapy school
While I love every minute of this work, with each client and student, the most exalted moment occurs at the start and end of each session. In those primary and terminal moments of connection, there is an electric quality to the air around us. The therapist "joins forces" with the client and the tiny human inside her to form a circular trinity of energetic exchange in the therapeutic present. Sometimes there is a flutter beneath your hands; the baby acknowledging the warmth, or the touch. Sometimes you feel the client's relief as she exhales, or her muscle release as she lets go. It is awe-inspiring to hold space for them both as they weave together and heal themselves, from the outside in, and the inside out.
---
Kiera Nagle, MA, LMT serves as faculty and clinical supervisor, as well as the Assistant Dean of Pacific College of Oriental Medicine-NY. She provided prenatal massage at University of Nebraska Medical Center in a groundbreaking integrative health partnership, and serves as Clinical Supervisor for Massage Therapy Interns at Katz's Women's Hospital at NSUH-LIJ. She's the mother of an amazing four year old. Please visit her website, MaMassage.org, for more information.