Bachelor of Science in Nursing
Pre-Licensure Nursing Program in NYC
Next term starts on January 8th, 2024!
A Unique Nursing Program in NYC with Integrative Nursing Specialization
Enter the nursing workforce with a competitive edge and unique career opportunities! PCHS' Bachelor of Science in Nursing is uniquely designed to blend rigorous nursing education with a personalized, patient-centered approach. You will prepare to earn your BS in Nursing in under 3 years while exploring the world of integrative healing, health equity, and compassionate healthcare.
Upon completion, you will be eligible to take the NCLEX-RN® exam and feel equipped to make a lasting impact on the lives of your patients and your peers.
BS in Nursing + Holistic Focus:
Redefining Compassionate and Connected Care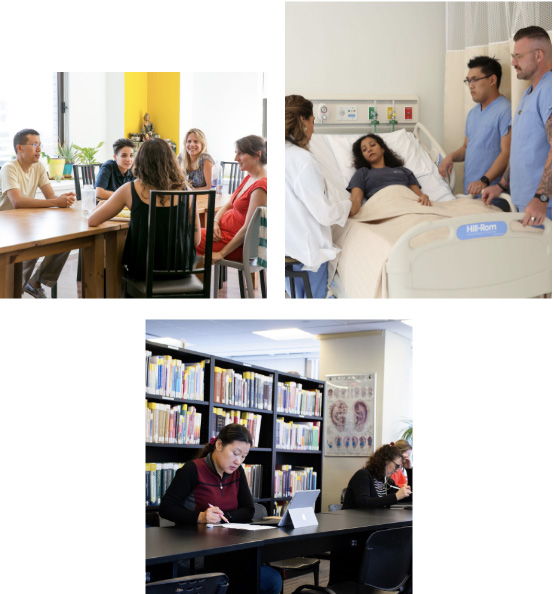 Practice in a Beautiful Skills Lab in a Convenient City Location
Complete your didactic courses online from the comfort of your home, then join the Pacific College community at the Financial District campus, conveniently located right above the Fulton St. station and complete with large student lounge, library, and onsite clinic open to the public.
This state-of-the-art skills lab is bright, spacious, and equipped with four brand-new, mid-fidelity manikins, surgical beds and equipment, smartboards, and interview rooms.
While on campus, you will also get to study and interact with other holistic and integrative students enrolled in PCHS' renowned programs, such as graduate degrees in acupuncture and Chinese medicine or the associate degree in massage therapies.
Complete Your Clinical Requirements in a Variety of Interesting Sites
Once you reach the clinical phase, you will get to participate in clinical rotations available in PCHS' network of healthcare institutions such as NYC Health and Hospital System, Archcare, NY Family Docs, Village Maternity, or even PCHS' own busy integrative healthcare clinic located right on campus.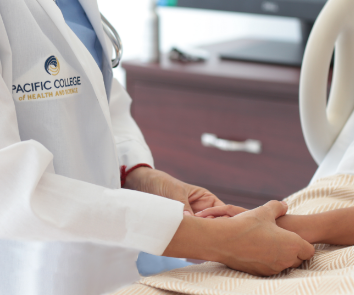 No Pre-Reqs. No Waitlist!
Enter directly into the BSN nursing program with no pre-nursing course requirements.

Convenient Hybrid Program:
Coursework 100% online
On-campus lab, diverse clinical options

Short Completion Time:
Without transfer credit: 8 semesters (2 years, 8 months).
With all general education ("GE") transfer credit accepted: 5 semesters (1 year, 8 months)

Competitive Tuition:
Only $950/credit!
Financial aid available to those who qualify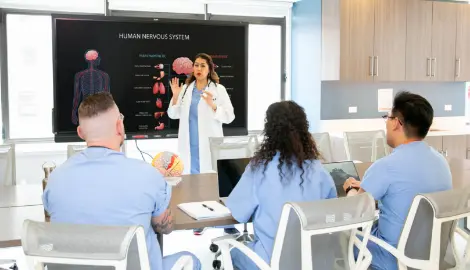 NCLEX-RN® Exam Prep Starts on Day One!
Receive engaging, interactive help to prepare for the NCLEX-RN® exam with Virtual ATI ®+ Boardvitals. You'll start preparing during your courses with access to tutorials, assessments, practice tests, and comprehensive support and planning tools. These are included in your BS in nursing curriculum and tuition, so you feel confident on exam day.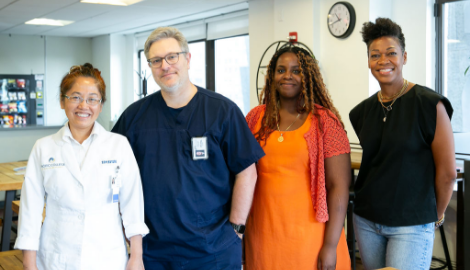 Feel Confident with a Trustworthy, Accredited Institution

Pacific College of Health and Science is accredited by the prestigious WASC Senior College and University Commission (WSCUC). The prelicensure BS in Nursing program is approved by WASC (WSCUC).

The college is registered with the New York State Education Department (NYSED) and approved by the Board of Regents.
Pacific College of Health and Science's RN-to-BSN program was granted initial accreditation by the Accreditation Commission for Education in Nursing (ACEN) in 2013. (PCHS is in the process of extending this accreditation to the prelicensure option.)
Welcome to the PCHS Family of Integrative Healthcare Professionals
Since 1986, Pacific College has been dedicated to improving lives exponentially by educating compassionate, skilled leaders of traditional medicine and integrative health sciences.
Over the decades, the college has continued to expand its reach with three beautiful campuses in New York, Chicago, and San Diego; a growing online division; a dynamic alumni network; and the largest acupuncture and Chinese medicine conference in the nation.
PCHS' nursing school in New York city was founded in 2012 with online nursing programs: an MSN program with Nurse Coach track; an RN-to-BSN with holistic nursing focus; and a holistic nursing certificate. This hybrid per-licensure nursing program is the latest addition to PCHS' commitment to bringing education and integrative health science to where people live, learn, and play.
By enrolling at Pacific, you join the ranks of one of the greatest communities of integrative healthcare students and professionals in the nation!
Equity, Diversity, and Inclusion Matter
Pacific College stands for health equity, integrity, positive change, celebration, inclusivity, equitable treatment and cultural acknowledgement for all.