Facial Applications for Cosmetic Enhancement (FACE)
NEW AT PACIFIC COLLEGE! Cosmetic Acupuncture Certificate
The Academy of Advanced Cosmetic Facial Acupuncture™ has partnered with Pacific College to present Facial Applications for Cosmetic Enhancement (FACE).
This cutting-edge Cosmetic Acupuncture Certificate offers a flexible combination of virtual, interactive classroom learning and hands-on, intensive clinical mentorship and training.
In addition to the Eastern medicine core style of cosmetic acupuncture training, participants will be introduced to skills and strategies developed and mastered by internationally renowned leaders in their fields, including Shellie Goldstein, Matt Callison, Yueying Li, Martha Lucas, Deirdre Courtney, Daniela Turley, Carrie Hart, and Chrysso Neophytou-Tsimis.
At this time, this advanced training and mentoring program is currently offered exclusively to licensed acupuncture professionals and advanced level Pacific College students who are interested in enhancing their facial acupuncture skills to grow their practice, or in pursuing a career focused on cosmetic facial acupuncture, acupuncture continuing education can be a valuable resource.
The FACE program is offered once per year and starts every January.
This cosmetic acupuncture certificate program qualifies for
8 credits of college education and up to 96 hours of NCCAOM and CA PDA/CEUs (including 2 safety and 2 ethics)
Facial Applications for Cosmetic Enhancement – Informational Webinar
Thu, Nov 17, 2022 6:30 PM – 7:30 PM CST
FACE Cosmetic Acupuncture Certificate Overview

8 Credits/up to 96 CEUs (includes Safety & Ethics)

Hybrid program: 96 hours of virtual class-time hours + 40 hours of on-campus, hands-on training

Elite faculty of expert cosmetic acupuncture specialists

Pacific College of Health and Science is accredited by WSCUC

Financial aid
for those
who qualify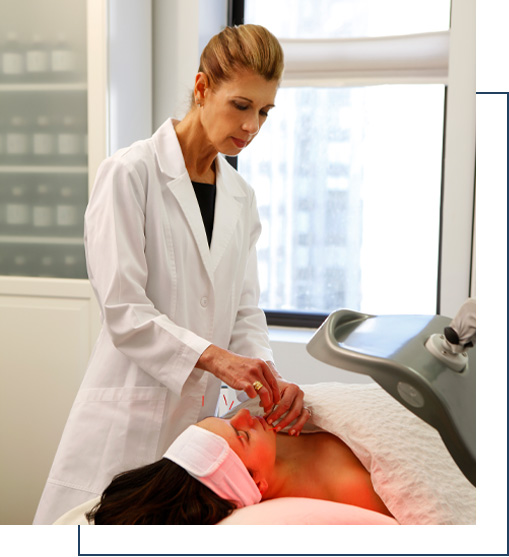 As Eastern medicine practitioners increasingly move into a more integrated healthcare system, it is important for FACE specialists to:
• Be rooted in their Eastern medicine area of expertise
• Be knowledgeable about Western alternatives
• Be able to speak the language of both Eastern and Western concepts as they apply to FACE
• Be able to interface with other practitioners (East/West)
• Learn to integrate Eastern medicine treatments with Western medicine knowledge
In keeping with today's focus on integrative healthcare, the FACE program incorporates functional medicine concepts as they apply to aging, facial changes, facial aesthetics, and aging concerns.
Semester 1 – FACE THEORY & CLINIC
136.5 hours:

60 didactic hours January-April 2024 (Wednesdays 9am-1pm Pacific Time)
12.5 hours of assignments (5 of which will be post-clinical)
5 days (40 hours) of live hands-on mentorship and clinical training:

April 6-10, 2024 at the San Diego campus
OR April 13-17, 2024 at the New York campus
Semester 2 – FACE CASE STUDIES & PRESENTATIONS 
28 hours of online, case study reviews over the course of 15 weeks, May-August 2024
2 hours of assignments
Anatomy, physiology, and morphology of the face (East & West)
Facial diagnosis (East and West)
Chinese medicine acupuncture strategies and points for cosmetic facial acupuncture
Treatment strategies and protocols for menopause and post-menopause
Motor points for neurological disorders, TMD, and idiopathic disorders of the face
Pathophysiology and treatment of skin and skin disorders (East and West)
Epigenetics, DNA methylation, and bioaging
Science-based dietary changes to improve skin conditions and signs of aging
Beauty herbs, nutrition, and supplementation
Ancillary services for enhancing treatment results and building business revenue
Case studies, research, and more!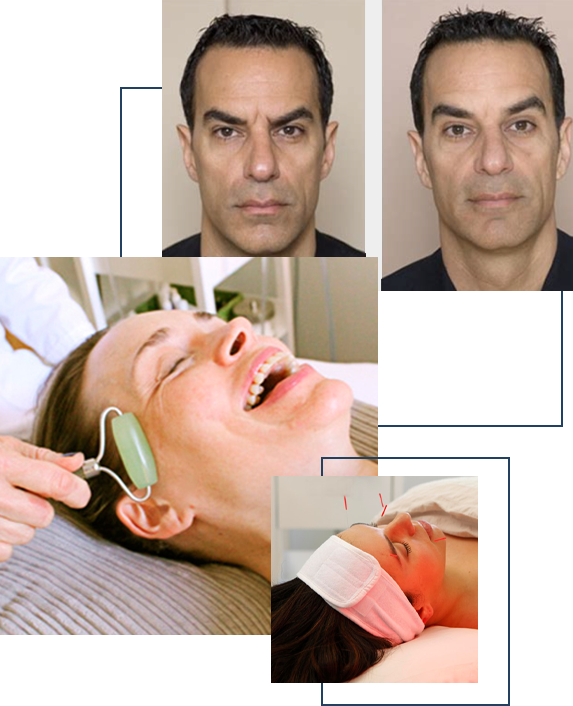 Cosmetic Acupuncture in the Media
FACE Cosmetic Acupuncture Certificate FAQ
Would I be able to take certain classes without completing the entire progam?
Yes, semester 1 is allowed on a space-available basis for PDA/CEU credits as a non-matricultaed student. Financial aid is not offered for non-matric students. Please note: in order to receive the FACE certificate, you must complete the entire program.
Do I need to attend the live classes or will they be recorded?
Although all virtual classes are recorded and available for viewing at your convenience, you will need to attend and actively participate in 75% of the live classes in order to successfully complete the program.
How long is the live-clinical training portion of the program?
The live-clinical training portion of the program is 5 consecutive days of intensive hands-on clinical mentorship with leaders in the field of acupuncture and facial aesthetics.
Where is the live-clinical training portion of the program located?
The live-clinical training portion of the program will be offered at the Pacific College of Health and Science campuses in NYC as well as in San Diego, CA. In order to successfully complete the program, you will need to attend one of the two available live portions.
What options are available to finance my training?
Federal financial aid is available for those who quality and, for those not receiving financial aid, payment plans are also an option. For additional information, please contact Pacific College of Health and Science.
Pacific's Facial Acupuncture  People