Massage School in New York
Next term starts on January 8th, 2024!
Massage therapy school in NEW york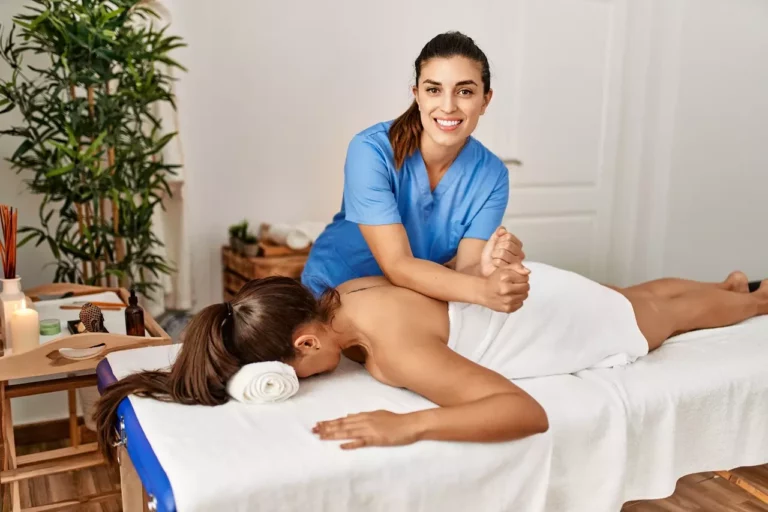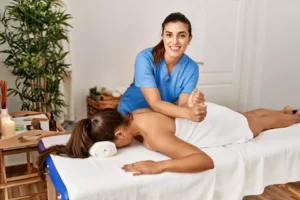 As the U.S. healthcare system undergoes a major scientific and philosophical evolution, patients are increasingly seeking out natural, evidence-based solutions and preventive services. The increased demand for evidence-driven holistic healing is transforming the healthcare industry. In New York, health practitioners are providing innovative solutions to treat illnesses and mental health disorders, as well as promote overall well-being. The Pacific College of Health and Science massage therapy school in New York City is uniquely positioned to help prepare students to join the thriving community of holistic healing. Our experienced faculty strives to inspire within students a deep and lasting respect for the integrity of the human body, mind, and spirit. Students enrolled in Pacific College's NYC-based massage therapist school learn the integrated care-oriented massage techniques they need to improve the lives and well-being of their clients.
Becoming a massage therapist by studying at a massage school in NYC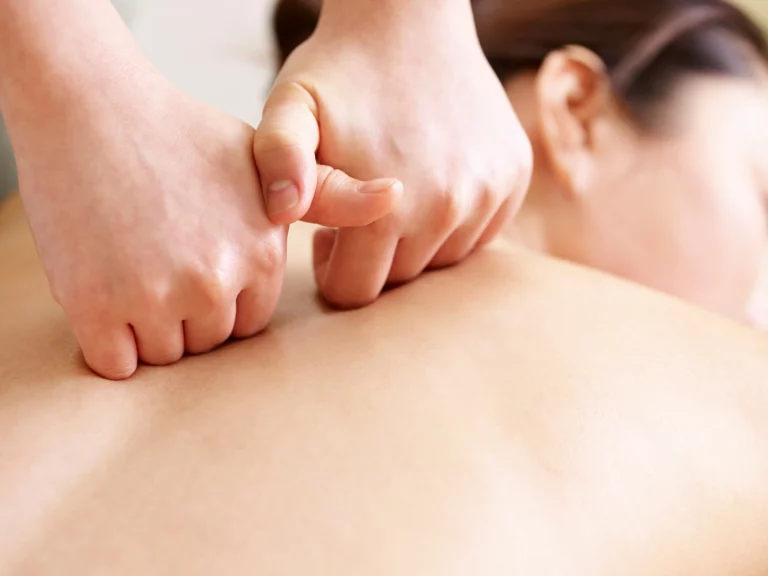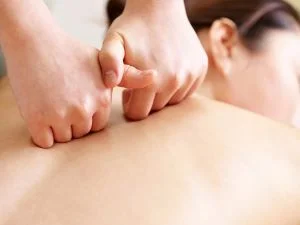 If you have a passion for helping others and an interest in alternative healing methods, embarking on a journey to become a massage therapist could be a fulfilling and rewarding career path. Let's explore the steps involved in pursuing a massage therapist degree and the benefits of enrolling in a massage therapy program.
One of the key benefits of going to massage therapist school is the training through practical sessions, where you can gain experience in different massage techniques, such as Swedish massage, deep tissue massage, myofascial release, and trigger point therapy.
Here are some key steps to becoming a massage therapist:
Take the time to research and compare different massage therapy schools or programs. Consider factors such as accreditation, reputation, curriculum, and hands-on training opportunities.
Look for a massage therapy school that is accredited by recognized organizations such as the Commission on Massage Therapy Accreditation (COMTA) or the National Certification Board for Therapeutic Massage and Bodywork (NCBTMB). Review the courses offered by each massage therapy program. Look for a comprehensive curriculum that covers anatomy, physiology, pathology, massage techniques, ethics, and business management.
Determine if the program offers training in specific massage modalities or specializations that align with your interests. Common modalities include deep tissue massage, sports massage, aromatherapy, and prenatal massage.
Research the licensing requirements for massage therapists in your location. Ensure that the program you choose meets these requirements or prepares you adequately for licensure exams.
Remember that becoming a massage therapist requires dedication, ongoing learning, and commitment.
massage therapy program in New York
Become an expertly trained body therapist and learn how to integrate Asian and Western bodywork and massage therapies.
MASSAGE THERAPY PROGRAM AND COURSE HIGHLIGHTS in New York
Is a Career in Massage Therapy Right For You? Find Out!
What Does a Massage Therapist Do?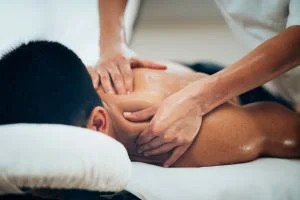 A massage therapist is trained in various massage techniques and uses their skills to promote relaxation, relieve muscle tension, and prevent or heal issues or injuries. To become a massage therapist, you can attend a school for massage therapy or become a member of a massage therapy training program. There are several physical therapy schools in New York, these institutions provide the necessary education to develop the skills required for this profession. During their training, you'll learn about human anatomy and physiology, studying the structure and function of muscles, joints, and other body systems. They also gain knowledge of different massage techniques, such as deep tissue massage, sports massage, and aromatherapy massage. These techniques vary in pressure, strokes, and focus areas, catering to different client needs. By attending workshops, seminars, or advanced massage therapy courses, professionals can specialize in specific areas such as prenatal massage, geriatric massage, or sports rehabilitation. Attending massage schools in New York allows you to learn from experienced instructors who can guide you through the various massage techniques and teach you how to perform them effectively and safely. You will practice these techniques under supervision, developing a strong foundation in massage therapy.
Why Massage Therapy School in New York?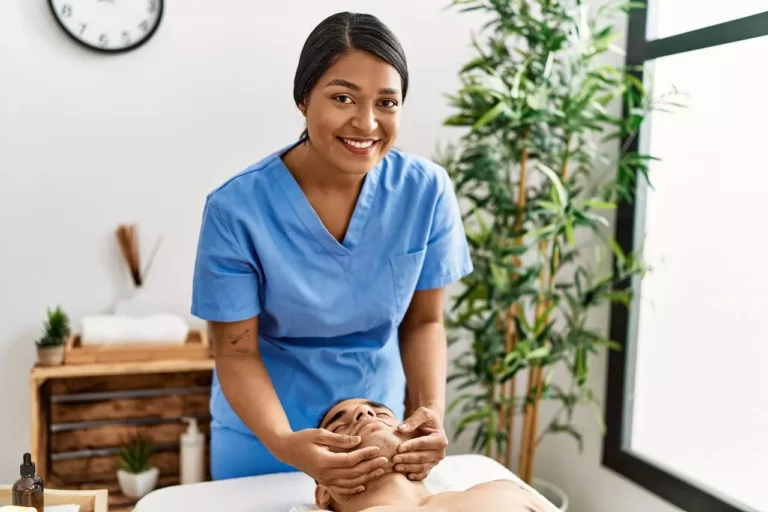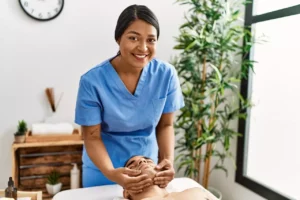 Practiced for over 4,000 years, massage therapy is celebrated throughout the world for its mental and physical health benefits. In recent years, massage therapy has gained wider acceptance among modern healthcare practitioners as a potent treatment for stress. Skilled massage therapists combine Eastern bodywork techniques with Western modern science to provide therapy that is clinically effective, holistic in nature, and efficiently targets a patient's health and emotional needs simultaneously. Clinical research shows that massage therapy can treat or alleviate headaches, fibromyalgia, digestive disorders, anxiety, stress-induced insomnia, and soft tissue strains or injuries.
PacificCollege.edu New York Massage School 110 William Street, 19th Floor New York, New York 10038
As the U.S. healthcare system continues to embrace integrative healthcare treatments, the need for trained massage therapists—specialists who can combine the latest medical science with traditional alternative health techniques—will only increase. The Pacific College massage therapy school in New York provides students with the skills they need to excel as integrated massage therapy specialists.
Who Should Choose These Programs?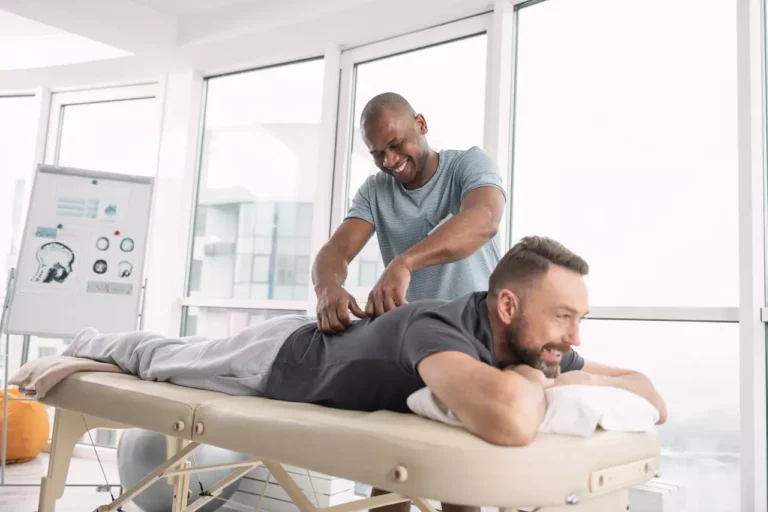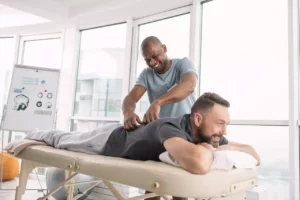 Our Pacific College massage therapist degree in NYC appeals to individuals who possess an innate passion for natural care and who recognize the importance of evidence-based practices. If you are eager to help improve the emotional and physical health of patients in need and you are also committed to delivering complementary and alternative care—integrated solutions that blend modern Western clinical techniques and strategies with traditional Eastern holistic healing practices—then Pacific College is the right choice for you.
Our Pacific College massage therapist school in NYC, also known as Pacific Massage, teaches students to view their clients' needs from a holistic and clinical perspective. We challenge students to grow personally and professionally so that they may understand their role as a natural and evidence-driven healer in restoring their clients' spiritual, mental, and physical well-being. Pacific Massage, rooted in the traditions of both traditional Chinese medicine and modern Western medical science, gives graduates a unique competitive advantage within the field. At the Pacific College massage therapist school in New York, we are advocates for holistic care and believe in educating future leaders who will go on to strengthen the role of massage therapy in the field of holistic care.
Student Testimonial about massage school in New York
"While discovering the healing power of touch and making friends that I now call family, I was also healing myself. I now have my own practice and work with people that have the same passion for helping others. I can never thank the faculty, staff, and students enough for this life-changing experience! I have no doubt that I made the right decision."
Massage Therapy School Courses in New York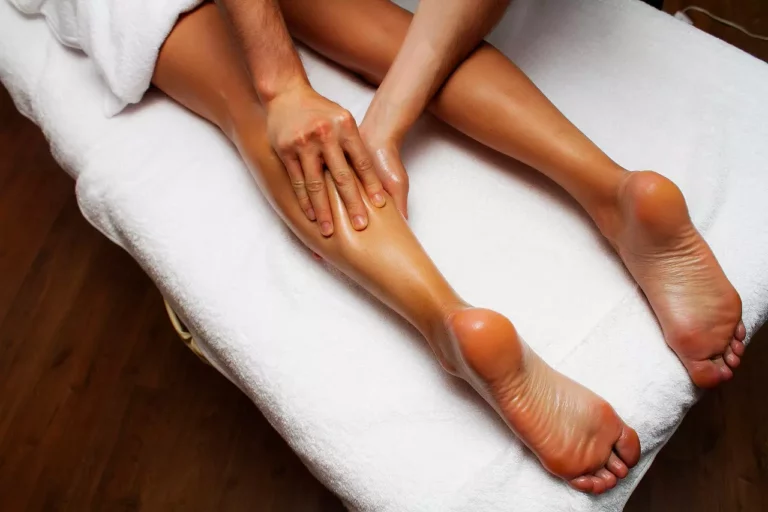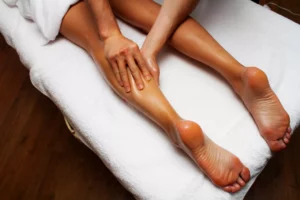 Students enrolled in the Pacific College massage therapy school in New York City will study:
Physiology
Anatomy
General pathology
Kinesiology
Oriental medicine theory
Tui na (medical massage)
Swedish massage
Shiatsu
Thai massage
Trigger point work
Neuromuscular techniques
Fascial techniques
Joint mobilizations
Students Can Choose an Elective from the Following Massage Specialties
Among the top-tier massage schools in New York, Pacific College's Massage School offers a rich tapestry of elective courses designed to shape the next generation of masterful massage therapists. Students have the unique privilege to delve deep into the art and science of various massage specialties:
Advanced shiatsu
Prenatal massage
Hot stone and hydrotherapy techniques
Ayurvedic (whole body) massage
Treating disharmonies with tui na
Massage Therapy School Tuition – New York (NYC) Campus
The tuition costs for the Pacific College massage therapy school programs vary. You can see a breakdown of all the costs for each course and for the complete massage school tuition and fees by visiting our Massage Therapy School catalog for the Asian Holistic Health and Massage Programs. Page 72 itemizes the NYC massage school tuition costs. Also shown are the cost for Books and Supplies and any fees associated with each massage program. PCHS updates the Massage Therapy Course catalog each year so you can know the exact costs for the program you are interested in.
Massage Therapy Career Outlook in New York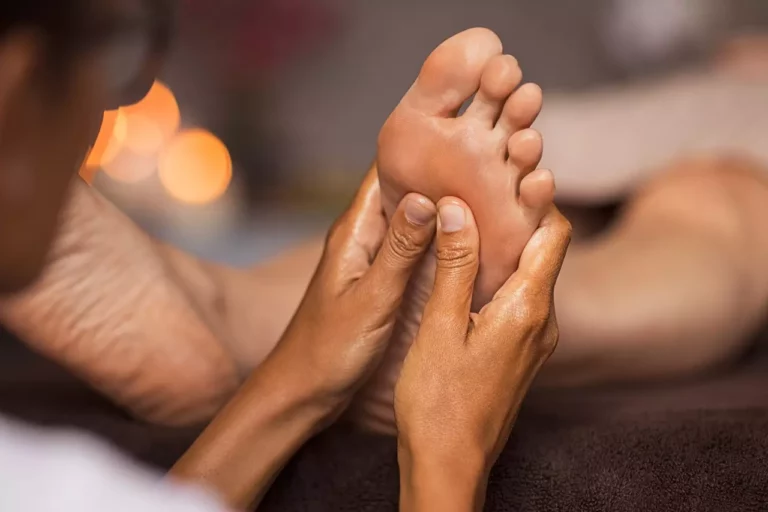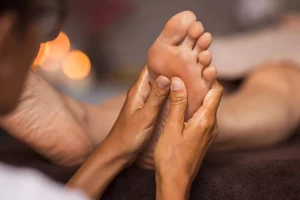 Massage therapists enjoy flexible work schedules and approximately 50 percent of massage practitioners in the U.S. work part-time or are self-employed. The growth rate for massage therapy occupations is expected to increase by 22 percent between 2014 and 2024. Pacific College graduates of the massage therapy school in NYC have found employment in resorts, spas, hotels, private practices, hospitals, cruise lines, sports medicine and physical therapy clinics, and cancer centers.
Start a Rewarding Career as a Licensed Massage Therapist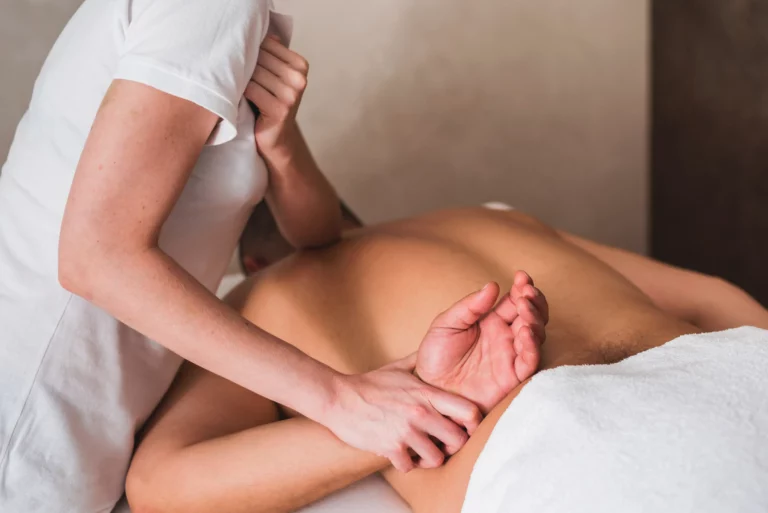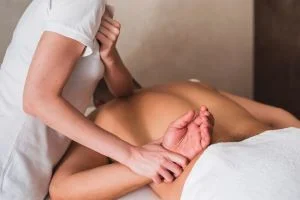 When searching for New York massage therapy schools, you'll come across institutions like PCHS Medical. We offer programs designed to prepare students for a successful career as massage therapists. These schools provide a structured curriculum that covers essential topics such as anatomy, physiology, massage techniques, ethics, and business practices.
Upon completing the massage therapist course, you will be able to pursue licensure as a massage therapist in New York. Licensure requirements may vary but typically involve passing a state licensing examination and meeting certain educational and experiential criteria. Once licensed, you can explore a range of career opportunities in various settings, such as spas, wellness centers, sports clinics, or even establish your own private practice.
A massage therapist schooling offers the opportunity to make a positive impact on people's lives. By helping clients relax, relieve pain, and improve their health, you can experience the satisfaction of seeing the immediate benefits of your work. So, if you have a passion for holistic health and a desire to learn massage therapy, consider massage school in NY and begin your journey toward a rewarding career.
About Pacific College of Health and Science
Since 1986, those with a calling to heal and promote overall health in the mind and body have turned to the programs at Pacific College of Health and Science. Graduates are prepared to both prevent and remedy pain, discomfort, and disease through practices such as massage therapy, acupuncture, and holistic nursing. Pacific College prepares students for careers as healing practitioners through an intersection of Eastern healthcare practices and Western bioscience practices and a strong hands-on clinical experience. All three campus locations feature student clinics where learning practitioners serve the needs of real clients.
New York Massage Therapy school faqs
Is massage therapy school in New York hard?
Massage therapy school programs vary based on individual State regulation. In NY State, the program must include no less than 1000 hours in a massage therapy school registered by the New York State Education Department as well as a course in CPR. This training will make you eligible for a licensure exam. A massage therapy license is required to practice legally in New York State. Your massage therapy school education will include courses in topics such as anatomy, physiology, pathology, and the study of hands-on modalities such as Swedish massage, neuromuscular therapy, trigger points, Thai massage, tui na, and more. In the Associate of Occupational Studies in Massage Therapies degree program, you will also get to apply your skills under the observation of licensed massage therapists at our busy New York campus' clinic.
Is the massage therapy school in NYC worth it?
Massage therapy school is worth it because one cannot take a State licensure exam without demonstrating proof of education at a State-approved school. It is also important to work with experienced instructors to learn techniques that are safe and well adapted to your client's overall health and condition. Our massage therapy school NYC campus will prepare you for well-rounded practice in massage therapy, exploring both Western and Eastern massage therapy approaches, including Swedish, Thai massage, Shiatsu and Tui na, with a choice of an elective course in specialty types of massage therapy such as Ayurvedic and prenatal massage. Additionally, our NYC campus offers hands-on clinical experiences with massage therapy practitioners to prepare you to join the field upon program completion.
How long is massage therapy school in New York?
Lengths of massage therapy school programs vary depending on location. In New York, massage therapy school must include at least 1000 clock-hours of education. Your massage therapy school training at the NYC campus covers 1207.5 credit hours of theory and clinical practice as part of a 65.5-unit program to be completed over five terms.
Is massage therapy school tax deductible?
You may be able to deduct the tuition of your massage therapy education on your tax return. The Lifetime Learning Credit (LLC) is a deduction for higher education that can provide up to $2000, based on your income. Other potential tax deductions include certification and licensing fees, as well as professional association memberships and business start-up expenses.
How do I get a massage therapy license in NY?
Massage therapy licensing requirements vary by state. To obtain licensure in NYC or another location in New York, massage therapy practitioners are required to complete 1000 hours of massage therapy school training, as well as successfully pass the state exam for New York.
How much is massage therapy school in NYC?
The cost of massage therapy school depends on the institution. Accredited colleges offer financial aid to those who qualify. You can also apply for student loans, and find grants or scholarships online. In addition, if you are a Veteran, there are at least five education assistance programs administered by the Department of Veterans Affairs that you can apply for. Your estimated total tuition cost for the NYC campus is $35,857, which includes the cost of textbooks and supplies. For the most up-to-date information on cost, you can contact your massage therapy school New York campus.
If you think a career in holistic medicine is something you would like to pursue, contact us and speak to an admissions representative to get started on your new journey!
For more information, call (855) 866-6767 or fill out our contact form to be contacted by a Pacific College representative.
Pacific College of Health and Science – New York
110 William St 19th floor, New York, NY 10038
212-982-3456