By: Pacific College
Published: May 7, 2020
In the summer of 2018, the National Council of State Boards of Nursing published guidelines that stated that all nurses must be educated around six essential areas of knowledge and skill regarding medicinal cannabis use. Those six areas of essential medical cannabis care include:
The nurse shall have a working knowledge of the current state of legalization of medical and recreational cannabis use.
The nurse shall have a working knowledge of the jurisdiction's MMP.
The nurse shall have an understanding of the endocannabinoid system, cannabinoid receptors, cannabinoids, and the interactions between them.
The nurse shall have an understanding of cannabis pharmacology and the research associated with the medical use of cannabis.
The nurse shall be able to identify the safety considerations for patient use of cannabis.
The nurse shall approach the patient without judgment regarding the patient's choice of treatment or preferences in managing pain and other distressing symptoms.
The full NCSBN document can be used to support change in the workplace, where cannabis prohibition thought patterns may remain dominate. It's now imperative that holistic nurses are prepared to educate and coach medicinal cannabis patients. Read the full NCSBN report.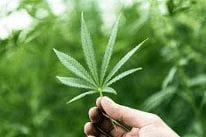 In the Fall of 2019, we started the Medical Cannabis Certificate Program at PCHS. This certificate is designed to provide nurses and other healthcare providers with the basic knowledge and skills to adequately support, educate, and coach medical cannabis patients. We have recruited top notch faculty with lived experience regarding medicinal cannabis care to teach this content.
Some interesting highlights in the current realm of cannabis care research include:
• A new study examining cannabis use, vulnerable patients, and CVOID19.
• An interview with Dr. Clark about the American Cannabis Nurses Assocation.
• A video interview with PCHS faculty Eloise Theisen, MSN, RN, AGPCNP-BC discussing the role of nurses in cannabis care.
Are you interested in learning more about the proper use, indications and contra-indications of medical cannabis as part of an integrative healthcare approach? Pacific College's 8-credit medical cannabis certificate program is also available as an elective in the holistic nursing, public health education and health & human performance programs! Pacific College is regionally accredited by WASC's WSCUC and offers financial aid to those who qualify. Visit our calendar page to see a schedule of our free upcoming info sessions.
Interested in Holistic Nursing?  Get your degree online!

Online Bachelor of Science in Nursing – RN to BSN

Online Post-Baccalaureate Holistic Nursing Certificate