We know that acupuncture works, but a recent study on carpal tunnel syndrome, published in Brain, a neurology journal, might help us to learn how acupuncture shown to rewire the brain. A team of investigators based at the Athinoula A. Martinos Center for Biomedical Imaging at Massachusetts General Hospital (MGH) chose carpal tunnel as the focus because it causes measurable changes in the body. It slows and confuses the sufferer's sense of touch—in the brain as well as in the skin.
"Acupuncture is a medical therapy that originated in China several thousand years ago," said Vitaly Napadow, PhD, director of the Center for Integrative Pain Neuroimaging at the Martinos Center and senior author of the study. "But despite its long history, the intervention itself—particularly when coupled with electrical stimulation—has significant similarities to many conventional therapies, such as transcutaneous electrical nerve stimulation. A large body of clinical research exploring acupuncture for chronic pain disorders has demonstrated that it may be marginally better than a placebo procedure in reducing pain ratings. But questions still remain: how exactly does acupuncture work? Is it any better at improving objective outcomes for chronic pain?"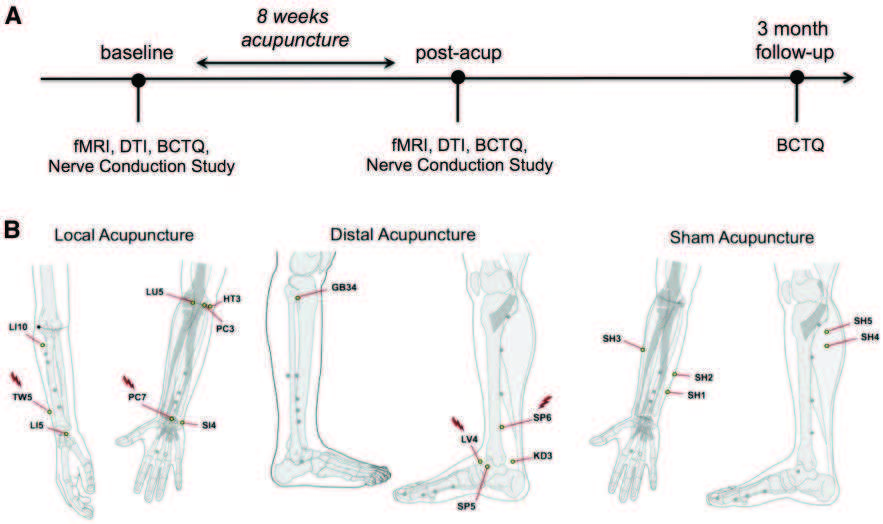 Location of acupoints for all three study arms.
80 patients were in the trial, divided into 3 groups:
Group A received electro-acupuncture on the hand and arm, near the site of the worst carpal tunnel pain (local),
Group B received electro-acupuncture, but on the opposite ankle (distal) from the area with the worst carpal tunnel pain, and
Group C received placebo or "sham" electro-acupuncture with non-penetrating needles, near the site of the worst carpal tunnel pain.
Each patient received 16 treatments over 2 months. Afterwards, all three groups reported improvements in numbness and pain, but Group A reported the most improvement, followed by Group B. Group C did not report as much improvement.
The interesting part, however, is that real, measurable nerve conduction at the wrist improved in Groups A and B, which received real acupuncture. In addition, the brains of the patients in Group A only—those who received real electro-acupuncture treatments on the affected arm—were significantly remapped over the course of the treatment. MRI scans before and after the treatment series showed that some of the damage caused by carpal tunnel had been reversed. The study indicated that acupuncture was shown to rewire the brain.
Interested in becoming a certified acupuncture professional?  Visit the campus web site nearest you:
---
Massachusetts General Hospital, founded in 1811, is the original and largest teaching hospital of Harvard Medical School. Consistently ranked among the top hospitals in America, MGH trains the next generation of medical and scientific leaders and conducts the largest hospital-based research program in the United States.