Colic is a condition in which an otherwise healthy infant cries for prolonged periods of time for no apparent reason. These periods of intense crying typically occur during the evenings and there are often no effective ways of preventing these inconsolable cries. Colic is diagnosed when an infant cries for three hours or more in length, more than three times per week, up to the age of three months.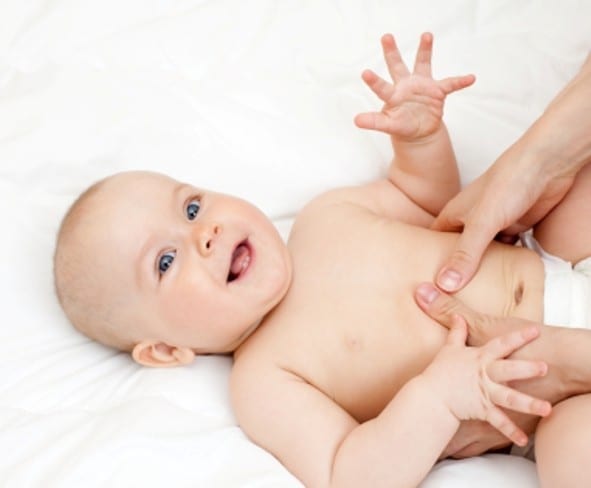 Any parent of an infant with colic longs to find ways to make their infant feel better. There are several suggestions as to the cause of infant colic and parents can learn more about these in order to better understand the condition their child is facing.
One way in which to aid an infant in feeling better is massage therapy. Many parents are skeptical about the true benefits of massage, yet parents who have tried it consider this form of therapy to play a major role in easing their infant's pain.
Massage for infants has three main steps: First, massage oil is rubbed into the therapist's hands to enable them to glide smoothly over the infant's body. The therapist then places his or her hands on the infant's shoulders and massages downwards towards the chest and ribcage using even stokes. The baby's knees are then gently bent and the legs moved in a walking motion. The legs are massaged throughout. Finally, the therapist circles the infant's belly button and tenderly presses around it, working in a clockwise motion. This motion in particular is thought to aid digestion. The required frequency of massage for infants differs according to circumstance. Parents should seek the advice of their physician and/or therapist as to the frequency of massage sessions.
One of the benefits of massage therapy is that it is believed to aid the workings of the body itself. Trapped gases are thought to move along the body when an infant with colic is given a massage. When trapped gas is released, the infant will feel instant relief. Some physicians believe that infants will colic suffer from kinked intestines and it is this that renders the passing of gas difficult. When the baby is massaged, it is theorized that gas is better able to move along the kinked intestine.
The April 1995 Journal of Developmental and Behavioral Pediatrics reported that massage therapy generally results in lower levels of anxiety and stress hormones in infants. Massage for infants was also associated with improved clinical outcomes. Another study into the benefits of massage found that the effectiveness of massage for infants with colic was on par with the use of a crib vibrator device. The study, conducted by Virpi Huhtala, Liisa Lehtonen, Riitta Heinonen, and Heikki Korvenranta at the Department of Pediatrics based in the Turku University Hospital in Finland, found that massage and use of a crib vibrator device reduced the incidence of colicky-crying to a similar degree.
It is important for all parents considering massage for their infants to ensure that they seek the services of a qualified massage practitioner.