A story of how holistic nursing changed my life, By Quilvio Rodriguez PMHNP-BC, MSN, HNB-BC, BSN, RN
 Welcome new and returning students to Pacific College of Health and Science's (PCHS) Holistic Nursing program. I am delighted and honored to have been invited to teach after graduating from the RN-BSN program in 2018. In this submission, I seek to introduce myself and share the holistic enhancements gained in both my nursing practice and personal life from completing the program. Embrace and allow for PCHS to change your life; it definitely had an impact on me!
My beliefs in holism and holistic nursing are rooted in my Dominican family background. For as long as I can remember, we were devoutly Catholic yet consulted with the neighborhood Curandero (facilitator of healing knowledgeable of natural remedies and ancestral wisdom that may also perform rituals). This dichotomy was peculiar and exciting for me. We wore our "Sunday's best" and exuded pride when walking to the immense cathedral every week. Meanwhile, back on the island, my mother and I journeyed through coffee and avocado fields in plain clothes on a jitney bus with secrecy that was overwhelming at times. I had to promise not to let my father or anyone know about these seemingly forbidden trips. I am forever grateful for these trips.
My father's ancestry is Spaniard and Italian, while my mother is a descendent of African and Taino Indians. Most notably, we come from the "golden flower" as she was nicknamed Anacaona. I believe my mom's knowledge of her relation to a powerful female leader, which led many battles against the conquistadors, made her a progressive feminist who defied social order, and danced to her own drum. Against her family's wishes for her to get married, start and raise a family, cook, and clean for her husband (the rhetoric of the time), she went on to become one of the first female lawyers in my country. However defiant she was, there was no rage behind her actions; she was tactful and calculated. She made herself invisible when she needed to, and she also led protests where her voice was clearly heard by the government when she was moved to do so.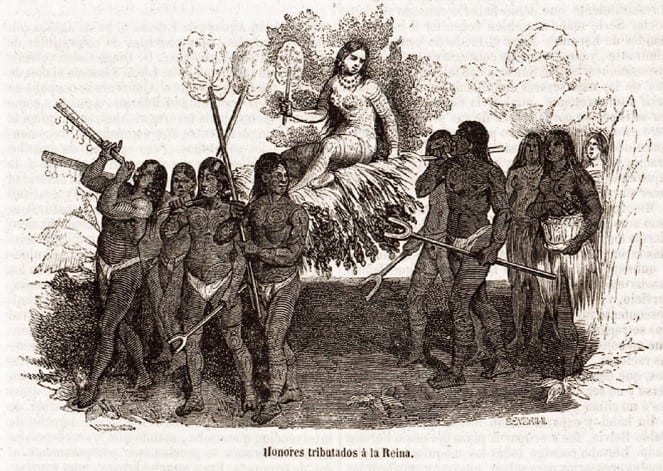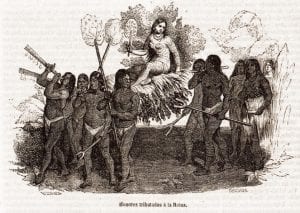 Right away, I noticed that many belief systems could exist in one's consciousness, and spiritual practice can encompass stained glass windows just as much as an open field of chrysanthemums. My child's eyes observed a structured and heavily manicured practice in the catholic church. We expressed our civility in prayer and devotion to our higher power, juxtaposed to the often barefoot mystical being with cascading onyx-colored hair that provided carefully brewed concoctions for my mother's physical ailments. In reflection, I am disheartened that the traditional practices in my culture were filled with shame and under much persecution. I yearned for an environment where all practices were respected and embraced according to the practitioner's desire.
Fast-forward to twenty years later, I was drawn to Pacific College of Oriental Medicine (now Pacific College of Health and Science), as they had one of the only Holistic Nursing programs in the country. I was only in my first year as a registered nurse and already burned out: I was disillusioned by the sick-cure mentality and the reliance on the medical model. In the RN-BSN program, I discovered the importance of self-care and realized this to be my most significant deficiency prior to enrolling at PCHS. I just gave and gave and treated and treated with this delusion that I could help and or save everyone. At the hospital, I walked as fast as I could, meticulously evaluated vital signs, ensured IV bags did not have air bubbles when priming, anticipated pain medication requests, and gave everyone all the jello they wanted. These tasks were a repetitive cycle, and still, some of my patients did not get better, and some I had to place into body bags. Guilt and shame washed over me many times over "what could I have done better" or "if only I had been there sooner." Running myself to the ground had me considering this was the wrong "calling," and I would have left the field if it were not for the caliber of education and sincere guidance from PCHS faculty.
Through the program, I discovered the importance of healing myself and doing the work that rejuvenates my life force. I was also guided to a different job where I discovered my passion for psychiatry, where I felt, and continue to feel, that holistic modalities are relatively easy to incorporate into the nursing care of the patients. On psychiatric and substance abuse units, I was provided the time to lead meditations and guided imagery sessions, encourage spiritual development, practice according to the client preferences, listen to patients' life stories, evaluate patterns that are unique to the client, implement aromatherapy interventions, apply ear seeds for detoxification (thank you professor Ortiz), and utilize many other holistic interventions.
There are many ways that we can incorporate holistic nursing principles into our nursing practice. Please remember it goes beyond modalities as holistic nursing is a way of being, not merely a way of doing. After graduating, the most significant change in me was my increased awareness of energy, environment, and attempting to remain grounded and centered in the present. Many of my colleagues indicated a difference in my care ability stating, "What happened? You no longer look flustered or frazzled running around the unit. Why are you so happy to be here?". Management noticed the improved outcomes in patients under my care. They quickly started placing me in charge-nurse roles and leading task forces for quality improvement. More responsibilities were added, and I still felt in control and relished the opportunity to do more for the patients on an administrative level. I was probably moving just as fast as my first year, but I did not feel burned out; I had increased energy. I am merely proud of the changes and do not wish to paint a picture that things were always perfect. Holism requires consistent inquiry, searching for answers, as well as attention to self-healing, which is an infinite process and ever-evolving.
I never thought I would go back to school right away after getting my bachelor's degree, but PCHS professors encouraged me to listen to my inner wisdom. Most importantly, they instilled a sense that anything is possible; if I can conjure it in my mind, it can manifest in reality. I was coached to believe that one should be a nurse for many years before pursuing an advanced degree or becoming a Nurse Practitioner (NP). I was told many times, "get your experience then go back so that you could be a better Doctor/ NP," by nurses in my work environments. I also noticed that many of these colleagues that provided this guidance had been nurses for 30-40 years; therefore, my focus shifted, as these were not the role models that exemplified what I wanted. There is great value in their expertise and wisdom; I simply wanted something different. I shifted my focus to a place where I truly felt at home, PCHS, and observed faculty working at their highest capacity with advanced degrees.
As defiantly as my mother was in her day, I applied to Columbia University's Psychiatric BSN to DNP program in my final year at PCHS. I was accepted, and they were thrilled that I came from a Holistic Nursing institution stating, "We welcome new perspectives on nursing care." Currently, I am in my final semester completing my Case Writing for the Doctoral degree. My DNP capstone project was accepted to be presented at the American Holistic Nurses Association Annual Conference in 2020; due to COVID, my presentation will take place at next year's conference. My topic is "Millennials and Spirituality," where I discuss ways to increase spiritual assessments of this target population and understanding different perspectives and ways of expressing spirituality. I am glad to have joined the PCHS Faculty co-teaching NR300 Theoretical foundations of Holistic Nursing this Fall 2020 semester.
I look forward to teaching on my own and bringing my experience to the holistic nursing curriculum.
Irving, W. (1852) Vida y Viajes de Christobal Colon. Impressario Gaspar y Roig. Madrid.