Many people who have found their calling can look back and pinpoint the moment they realized what they were meant to do with their lives or their careers. For acupuncturist Dr. Dana Fine, that career in acupuncture and Chinese medicine began with a broken foot. "My dad gave me acupuncture treatments for six weeks," Fine recalls. "As soon as I was getting these treatments, [I knew] this was what I needed to be doing."
At the time, Fine had been working as a journalist for Nike Women, where much of her work focused on health. She had long been interested in the topic—she grew up playing sports, and her father is a gastroenterologist. At home, Fine's father, who was trained in acupuncture, would often share what he was learning about both Western and Eastern medicine. He used a mix of the two when treating his own patients, and whenever Fine was injured, he would encourage her to seek out massage treatments and other less traditional forms of medicine.
After recovering from her broken foot—without surgery—Fine decided to turn this lifelong passion into a career in acupuncture and Chinese medicine and enrolled at Pacific College. She earned a Master of Science in traditional Oriental medicine. She opened her own practice in Glenview, Illinois, in 2014 and began treating patients with a range of health problems.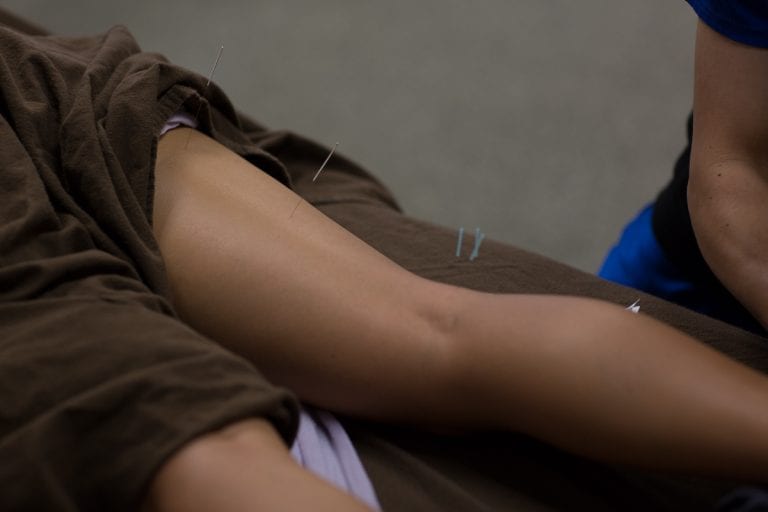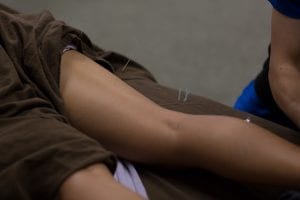 "One of my first patients ever, I still see her for maintenance," Fine says. "She's had multiple back surgeries, and she couldn't walk…she couldn't get up…she was constantly in pain.
"Now, she walks her dog an hour every day. She's not in any pain," she continued. "It's unbelievable to see how much better she is with acupuncture."
When she first started out, Fine encountered a lot of skepticism regarding her choice of career paths.
"Most people thought I went to a weekend course and became an acupuncturist," she says. "They didn't realize I went to school for four years after college."
That skepticism was one of the driving forces behind Fine's choice to return to Pacific College for a transitional Doctorate of Acupuncture and Chinese Medicine. The online program allowed Fine to attend classes remotely and still maintain her practice. Completing her doctorate also meant that Fine was now Dr. Fine—two letters that she says boosted her credibility among potential patients.
"Once I got the 'doctor' title, it made people realize how much more education I had," Fine says.
Interested in career in acupuncture and Chinese medicine?  Visit the campus web site nearest you:
Over the years, Fine has seen an increase in the acceptance of acupuncture as a valid form of treatment. A shift toward preventive care has boosted the visibility of the practice, well-known athletes are publicly applauding its effectiveness, and more and more people are seeing results with the treatment.
Fine has found particular success in helping many of her patients to quit smoking. She uses five acupuncture points in the ears to help the body decompress and heal. The treatment, she explains, prompts changes in a patient's smoking habits—eventually leading to cessation. She also works in conjunction with her father, bringing Western and Eastern medicine together by providing acupuncture and other Chinese medicine treatments to his patients.
Learn how acupuncture for insomnia helps cancer patients.
In addition to running her own practice, Fine continues to blend her passion for health with her background in writing. She is the editor-in-chief of Try Acupuncture, a digital publication geared toward potential acupuncture patients, and recently published her first book, Kosher Chinese Medicine.
"It's about how the Torah teaches us how to live a healthy life if we look at health through Chinese medicine," Fine explains. "I grew up going to Jewish day school, so I always learned things from a Jewish perspective. When I was in grad school, I kept relating [concepts] to Judaism because it would make more sense to me, and then I eventually came up with the book."
At the end of the day, all of Fine's work—in both her practice and her writing—is focused on one simple objective: to improve the lives and health of those around her.
"People are realizing that we're just trying to help people with getting their lives back on track."