How AWB Provides Trauma-Informed Integrative Care in Migrating Communities
By Carla Cassler, DAOM, LAc, Director of AWB Programs and Community Clinics
Right now, more than 80,000,000 people in the world are displaced from the place they call home. The causes are multiple and deep: the pandemic, climate change, poverty, social injustice, disaster, violence, and systemic oppression are all significant factors. Trauma is the shared experience of millions of refugees, asylum seekers, and migrating people—trauma that may begin in early life or country of origin, trauma that accompanies them on their journeys, trauma that continues for many, even if they manage to find sanctuary and opportunities to rebuild their lives.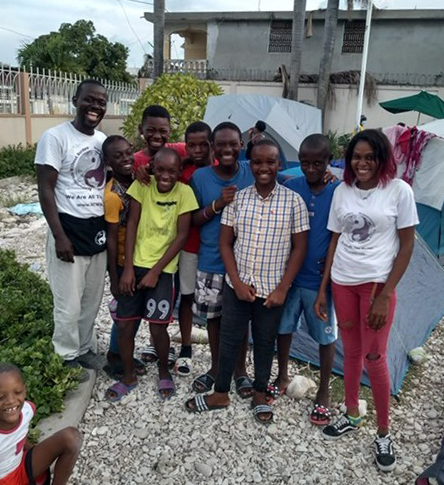 Acupuncturists Without Borders (AWB) provides trauma-informed healthcare and support to vulnerable communities affected by disaster, poverty, climate change, oppression, and violence. There are threads that connect the people and communities where AWB works, including a strong one between Haiti, Mexico, and California. In all these places, we collaborate with local healers and service organizations to offer healthcare and "heart" care. To really understand the thread, and contextualize AWB's programs, it's helpful to know a bit of recent migration history.
AWB Haiti Program Coordinator Louissaint Alcide and team in Aux Cayes after the August 2021 earthquake In 2010, a devastating earthquake hit Haiti, a former French colony and one of the poorest countries in the world. Over 200,000 people died and 1.5 million were displaced from their homes. Those who could leave the country migrated to places like Chile and Brazil, where they later found work building the 2016 Olympic Games complex in Buenos Aires. As work dried up and local conditions changed for the worse, Haitians moved north to find safe haven and employment. Hurricane Matthew roiled Haiti in 2016; political violence and poverty escalated; the prime minister was assassinated in July 2021, and another devasting earthquake followed in August. Haitians in South and Central America continued to migrate north, many eventually reaching border cities such as Tijuana, Mexico.
There they joined tens of thousands of migrating people from Honduras, Guatemala, El Salvador, and other Central American countries who have fled gang violence, political torture, and poverty over the past decades. Many live in large church-run shelters, and a new tent city has emerged in El Chapparal, the western entry/exit portal to the US. Covid has further imperiled the lives of Tijuana's refugees and asylum seekers, driving down meager employment and access to even basic healthcare.
Haitians and Central Americans who make it across the border with the help of smugglers, or on their own, then enter a shadow world. Without legal status and documentation, many work in low-paying jobs without labor protection or access to decent employment, housing, or medical care. In California, Central Americans make up 3% of the seasonal farmworker labor force; 75% f that labor force is undocumented. These are the "invisible" essential workers that grow half the nation's fruits and vegetables and two-thirds of our nuts; the people who, due to illegal status, live in fear of deportation, make poverty-level wages, live in extremely crowded housing, have little or no healthcare access, are exposed to wildfire smoke and pesticides; and who suffer disproportionate rates of Covid, diabetes, asthma, and suicide.
Over the past fifteen years, AWB has followed this thread of human migration, offering trauma-informed care in Haiti, Mexico, and California. We believe that trauma is often at the basis of human suffering, and that unless trauma cycles are interrupted and resolved at the personal, familial, community and global level, suffering will continue unabated. Trauma patterns are dynamic and physically-based. They emerge when systemic dysregulation, in response to grave threat, goes unchecked. Physical, mental, emotional, and spiritual problems can manifest and worsen over time if the dysregulated system can't reset. Somatic treatments like acupuncture are essential to helping bring greater regulation to the system so that emotional processing and recovery can begin. Otherwise, the person is "stuck" in flight, fight, or freeze, which often leads to greater illness and disability over time. Trauma healing helps people feel hopeful, resilient, and empowered. It's why we call AWB's work the Medicine of Peace.
We work with local partners, including indigenous healers, who invite us to bring East Asian medicine treatments to their communities. We offer direct services, including acupuncture, herbal medicine, and massage therapy, and provide trauma-informed care training for local practitioners providing care in their own communities.
Twelve Years of AWB Work in Haiti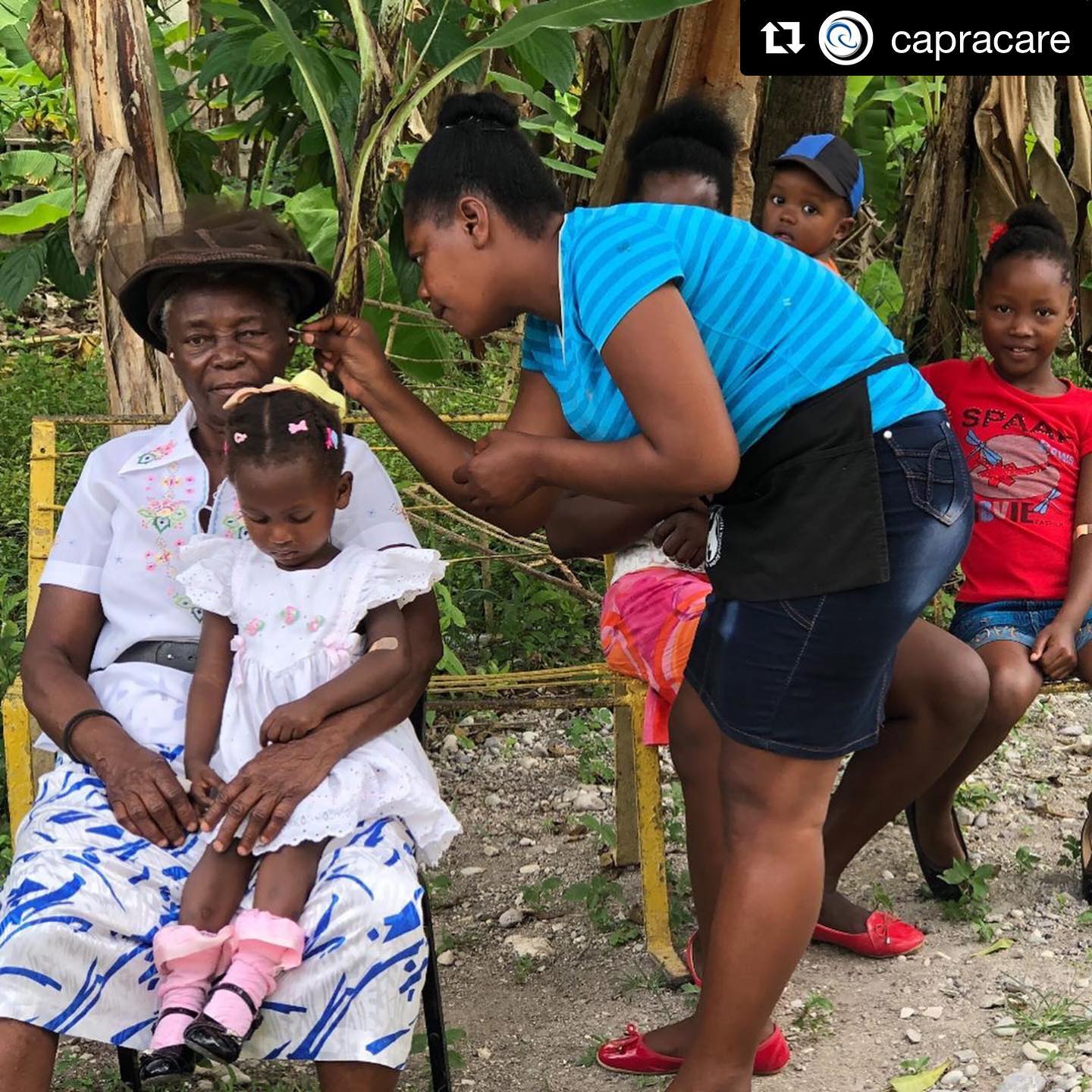 Before the 2010 earthquake, acupuncture did not exist in Haiti. AWB's response after the disaster included sending nine service teams, over a six-month period, to offer ear acupuncture for trauma and pain throughout the country. By trip nine, we began training local community health workers to do ear acupuncture treatments for pain and trauma, and have since done five large trainings for local health workers and activists. AWB Haiti Program Coordinator Louissaint Alcide and his team of trained practitioners continue to hold pop-up clinics in multiple towns every week. Within three days of last summer's major earthquake, Louissaint and his team were in the epicenter region, Aux Cayes, treating families in markets, churches and community centers. Local practitioner training, collaboration with local service organizations and financial support from the international community have helped create this sustainable program. Meanwhile, some of the Haitians who left and made it to Tijuana are able to receive AWB's care through our community partnerships in Mexico.
Acupuncture on Both Sides of the Border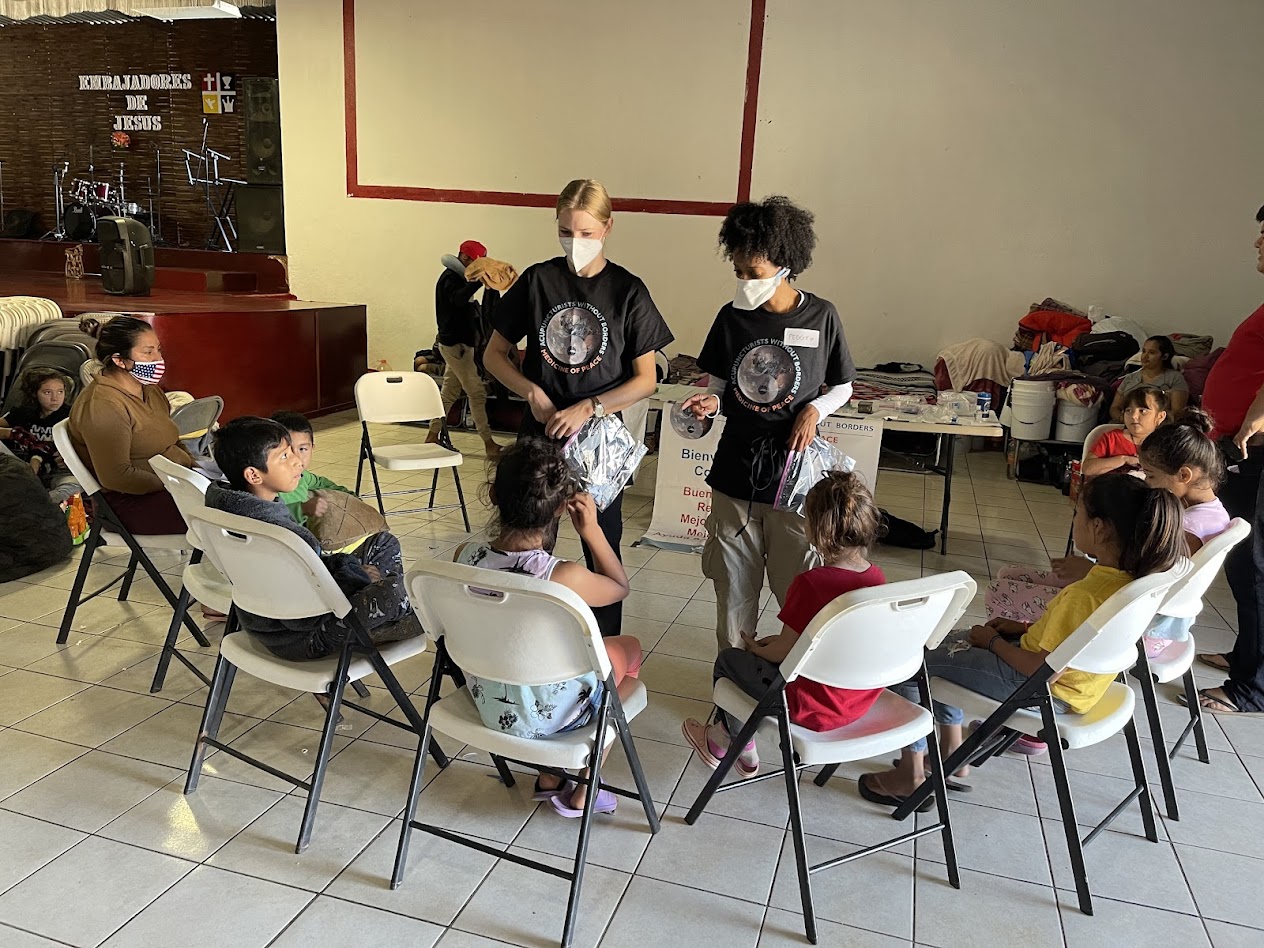 In 2019, AWB acupuncturists began working in Tijuana with the Refugee Health Alliance (RHA), established in 2018 to provide basic healthcare for people arriving on the infamous migration caravans from Central America. We volunteered on Saturdays, crossing the border from San Ysidro, CA with groups of doctors, nurses and other health practitioners organized by RHA to set up mobile clinics in Tijuana residential shelters.
Over time, we joined forces with the Parteras midwifery group at RHA's Justicia En Salud Clinic, which offers daily reproductive and primary healthcare to women and children in the migrant community. The amazing Parteras team is coordinated by Ximena Rojas, a force of nature and a fierce advocate for the women and children of Tijuana's migrant community. Ximena and her team deliver most of the babies born to migrant families, including many from Haiti. Creole and Spanish are the languages of the clinic, which also houses a pharmacy of indigenous herbs from Mexico and Central America. Acupuncture is offered daily for stress, pain and trauma, and herbs are dispensed for prevention and treatment of many primary healthcare problems.
---
"Being a part of the volunteer effort in Tijuana, MX has been one of the most meaningful and valuable experiences of my life. A true representation of the traditional use of acupuncture as a medicine for the people, the work simultaneously exemplifies the possibilities for integrative approaches in medical outreach and primary care settings. A joint effort between TCM practitioners, nurses, physicians, midwives, psychologists, dentists, and medical students from the surrounding areas, the experience provides insight into the unique social landscape and accompanying health disparities of the border region in which we live, and emphasizes the interprofessional reciprocity necessary to provide borderless medicine."
-Leah Lind-White, Pacific College of Health and Science alumna
---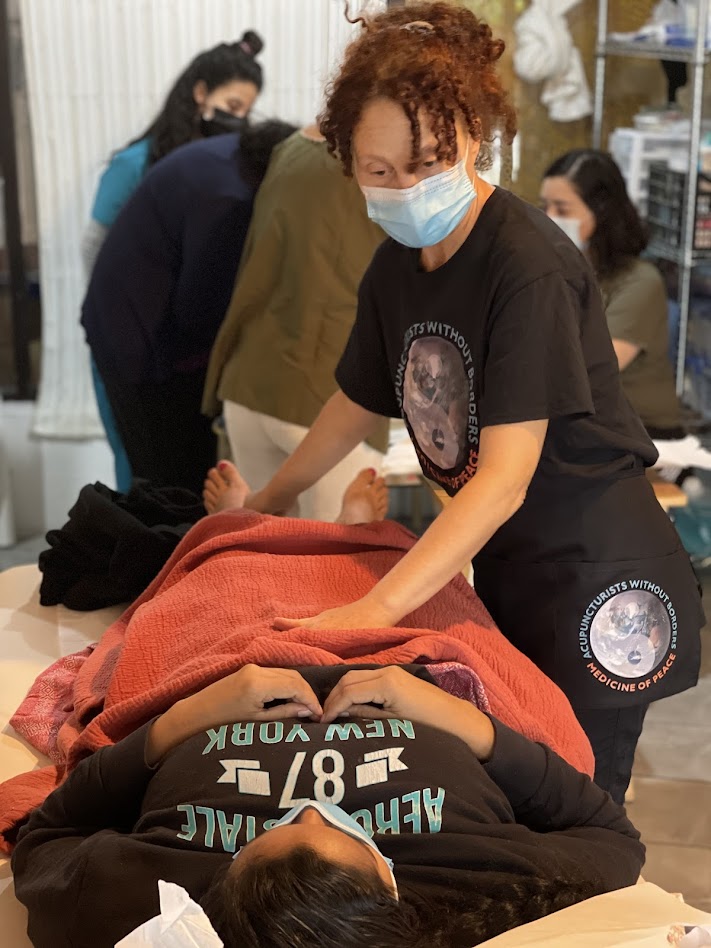 Our relationship with Parteras is based on deep mutual respect, trust, and a shared sense of purpose. Understanding of trauma, what it means to deliver trauma-informed care, and cultural humility are also essential elements of our successful partnership. It has grown to include ear acupuncture and moxibustion training for the midwives, and creation of a large Chinese herb section for the herb pharmacy. Ear acupuncture is offered daily for stress, pain and trauma, and herbs are dispensed for prevention and treatment of many primary healthcare problems.
AWB does week-long training/service trips every quarter, and has started sponsoring individual practitioners from San Diego and Los Angeles to see patients at the clinic one day a week. This helps the midwives, patients with complex needs, and provides greater continuity of care. Several PCHS alumni and students have been part of AWB's work in Tijuana, and we hope to expand this relationship in the coming year.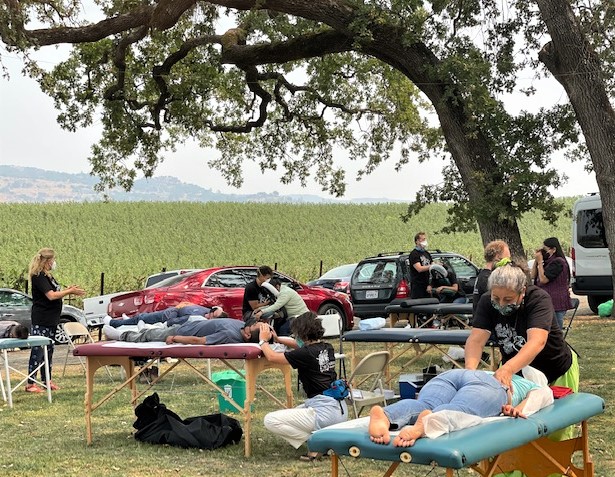 On the US side of our southern border, AWB has been providing treatments to farmworkers in the wine-growing regions of northern California and the strawberry, artichoke, and apple fields of the Central Valley. Like our work with Parteras in Tijuana, we collaborate with local organizations, including The Botanical Bus, an organization of promatoras (Latinx community health workers) that bring indigenous herbal and complementary healthcare to farmworkers in Sonoma County, and the Center for Farmworker Families, which advocates for agricultural workers in the Watsonville area of Central California. Clinics happen on a weekly and monthly basis, and we invite local practitioners to join us!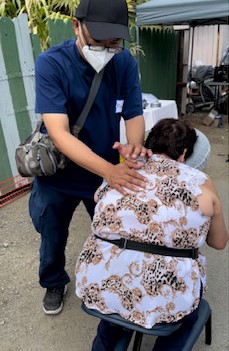 To put it simply, borders fade when it comes to AWB's work. Communities of displaced people are intimately connected, and trauma is a shared experience. Likewise, we as acupuncturists and students can connect with local community organizations, activists, and healers to offer the benefits of East Asian medicine to a fractured world. We can help repair the thread.
For more information about Acupuncturists Without Borders and trauma-informed care training, go to www.acwb.info. If you are interested in joining AWB to provide care in Tijuana and/or California, contact Carla Cassler at [email protected].
Carla Cassler, DAOM, LAc, has practiced East Asian medicine since 1985 in the San Francisco Bay Area, and is currently AWB's Director of Programs and Community Clinics. She has developed and coordinated field programs in Greece, Mexico, Puerto Rico, Israel, and Palestine, and is part of the AWB team that develops trauma-informed, integrative care training for acupuncturists, students, and other health professionals.