By Elena Tate
"Getting regular massage therapy and acupuncture has allowed me to manage my pain without the use of opioids," said Ms. Jeanette Jones. She has been regularly receiving massage therapy and acupuncture by Pacific College interns at the Initiative for Women with Disabilities (IWD) for over 10 years. She, like millions of others, suffers from a disability that results in chronic pain and negatively impacts the ordinary activities of daily life.
In New York state alone, there were over two million people living with a disability in 2017—11.6% of the total population. That number rises to 46.9%, however, among people over age 75. According to the Cornell University Disability Status Report, there are many types of disabilities, including hearing, visual, cognitive, and ambulatory, as well as self-care and independent living disabilities. The largest percentage fall under the category of "ambulatory disabilitiesy", wherein a person's ability to walk is affected.
The IWD, part of NYU Langone Hospital, provides programs, workshops, classes, and wellness services that promote overall physical and mental wellbeing, striving to meet the unique physical and emotional needs of women with physical disabilities. There are Zumba classes and even a track club where wheelchairs are welcomed. Pacific College has a special partnership with the hospital that allows student interns to practice in the hospital setting. For client and intern alike, it is a valuable experience.
Kate Nichols, a graduate of Pacific College, said her IWD externship was the most significant part of her massage education. "It informs 1000% of the work that I do. At IWD, I had one client who had a traumatic injury and even a light pressure caused her tremendous pain. But I was able to work on her and it was a privilege just to be in the room with her and listen to her story, let alone provide manual therapy."
According to Andrés Muñoz Díazgranados, another graduate, "The IWD gave me the opportunity to learn in a very fast way, things that we saw in theory in class but we could not practice in our labs or even in a good part of the clinic experience in the College. The IWD was a good way to open my eyes to the huge responsibility that I will have in my work. I had the beautiful experience to receive women that have been waiting for a massage for years. They come to the treatment with so much hope and respect that being with them is to feel the importance of what we learn and do. I learned that behind every pain and illness is a human being. I had on my table women with so many difficult illnesses, I had to practice with love, knowing that when I touched their skin, I was touching their lives in many ways."
In a single shift, students may see clients who have multiple sclerosis, arthritis, post-polio syndrome and scleroderma. Many of the clients who come to IWD for massage treatments do not go anywhere else for massage therapy due to lack of accessibility. Some of them are able to come to the on-site clinic at the College to continue their treatment. Others go back on the waiting list, which has at times been several years long.
For many, it is worth it.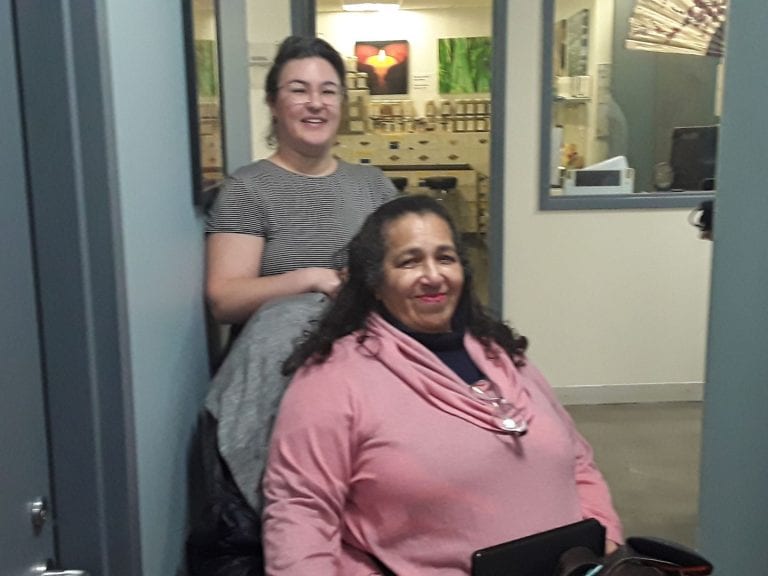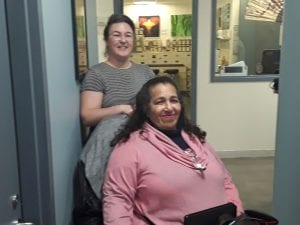 The hospital has elevators, fully accessible bathrooms and treatment rooms, and even a hydraulic massage table which makes it easier to self-transfer from
a wheelchair. The fee for a 30-minute massage is $10. Most places in the New York City have barriers to physical accessibility and are prohibitively expensive for many. But the benefits of regular massage are sometimes priceless.
As Ms. Jones says, "I was on oxycontin and oxycodone for 15 years to treat my fibromyalgia, osteoarthritis, spinal stenosis, and carpal tunnel syndrome. Now, after my weekly massage and acupuncture treatments by Pacific College interns, I don't even remember the last time I had to take an Advil."
Elena Tate is the Clinical Supervisor at the Initiative for Women with Disabilities and a faculty member at Pacific College of Health and Science in New York. She is a licensed massage therapist with a private practice in New York City.
Works Cited:
Erickson, W., Lee, C., & von Schrader, S. (2019). 2017 Disability Status Report: New York. Ithaca, NY: Cornell University Yang-Tan Institute on Employment and Disability(YTI).
Interested in becoming a certified massage therapist? Visit the campus web site nearest you:

San Diego massage therapy school

Chicago massage therapy school