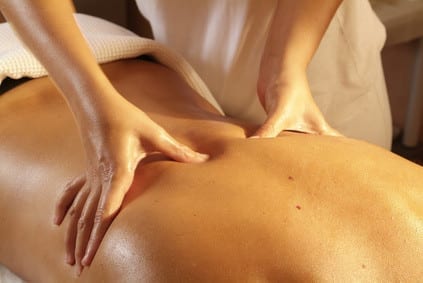 by Alex A. Kecskes
The ancient Chinese healing art of acupressure is similar to acupuncture, but instead of applying needles to certain points on the body, the technique uses finger pressure on these points. Like acupuncture, applying pressure on specific points of the body draws on the body's natural abilities to cure itself. The pressure promotes blood flow, releases muscular tension and engages the body's own life force to soothe and heal. Acupressure can relieve tension, aches and pains, arthritis, even menstrual cramps. It can also help relieve the symptoms of insomnia, depression, toothache, dizziness, digestive disorders, nausea, morning, and motion sickness.
According to UC Irvine anesthesiologists, an acupressure massage applied to children undergoing anesthesia may help lower their anxiety levels, reducing the stress of surgery. The sedatives currently used before anesthesia can cause nausea and prolong sedation. Acupressure has no such side effects. In a recent study, adhesive acupressure beads were applied to 52 children between the ages of 8 and 17 who were scheduled to undergo endoscopic stomach surgery. In half the children, a bead was applied to the Extra-1 acupoint, which is located in the midpoint between the eyebrows. In the other half, the bead was applied to a spot above the left eyebrow that revealed no reported clinical effects. Half an hour later, researchers noted lowered levels of anxiety in the children who had the beads applied to the Extra-1 acupoint, while anxiety levels rose in the other group.
When correctly administered, acupressure can be effective in treating a number of conditions caused by tension. The good news is that there are no side effects from drugs, and one can practice acupressure therapy any time, anywhere-while sitting, standing or lying down. Acupressure works by accessing and releasing blocked energy centers in the body. The stimulation rids the body of toxic build up that accumulates in muscle tissue. These toxins can cause stiffness in various areas of the body. Stiffness in muscles puts abnormal pressure on nerves, and blood and lymph vessels. The pressure on blood and lymph vessels affects both skeletal systems and internal organ functioning.
Traditional Chinese Medicine has mapped out points of meridian pathways on the human body. These points, mapped out and proven by Western science using electrical devices, carry energy called chi. Some points relate to a specific body part, others are more general. When these points are stimulated by hand and finger massage, they encourage the body to combat illness. Basically, the many pressure points that exist along the meridians act as "valves" for the flow of qi. Acupressure opens these valves to restore the flow of qi and balance the body's natural energy.
Much like a regular massage, acupressure massage uses the finger or thumb, and sometimes a blunt object. Motions are quick and circular and applied with a medium amount of pressure. Massages last between five and 15 minutes. The most often used acupressure techniques involve rubbing, kneading, and vibration using the hands, fingers, knees, and elbows. Sometimes, even the feet can be used to massage larger areas of the body.
Keep in mind that acupressure massage techniques should be used in collaboration with other appropriate medical care. Consult your doctor for advice on any medical condition.
Reference: Acupressure Calms Children Before Surgery
http://www.sciencedaily.com/releases/2008/10/081001130006.htm