San Diego Commencement 2022
It All Leads To This Moment
Graduation day is a moment to remember everyone who has supported you throughout your journey to bring you another step closer to all that you have chosen to be. Graduation day is not an ending, but the first steps into your new life as a Pacific College alumni. We're behind you all the way as you put your new hard-earned degree to work.
Virtual Ceremony: FRIDAY, JUNE 3rd, 2022, 5PM PST, VIA ZOOM
In-Person Ceremony: FRIDAY, August 5th, 2022 Legacy International Center 875 Hotel Circle S, San Diego, CA 92108 Online Programs: 2:30 PM PST On Ground Programs: 5:00 PM PST
Spring Commencement Information
Welcome Graduates! Be sure to check back often for updates.
If you have any questions, please email [email protected]
This list does not reflect the order in which students will be announced on Commencement Day, nor does it guarantee there will be candidates for all the degrees listed.
Certificate of Massage Therapy/Asian Bodywork
Associate of Applied Science (Holistic Health Science)
Associate of Applied Science (Yoga Teacher)
Master of Science in Traditional Oriental Medicine
Master of Science in Health and Human Performance
Doctor of Acupuncture and Chinese Medicine
Transitional Doctor of Acupuncture and Chinese Medicine (Online)
Transitional Doctor of Acupuncture (Online)
Virtual Commencement Slides
Online Degree Programs: 2:30pm PST
On-ground Degree Programs: 5:00pm PST
Preparing For
Commencement
Submit Your Registration Form for Graduation
Slideshow: Submit your photo to

[email protected]

****We welcome that you submit a photo of yourself in your regalia so we can showcase you! There is no obligation to purchase the regalia for this year's virtual ceremony. But we really hope to see you in next year's ceremony!

Applications for participation in Spring Commencement are due Friday, April 1st, 2022.
Your graduation registration will be reviewed by the Records Office and your academic department to confirm your anticipated degree completion. Please refer to your Pacific College's email account for a response. You will receive a confirmation email if your registration to participate is approved.
Hotel Booking: Legacy International Center has provided discount rates. Please see handout for information.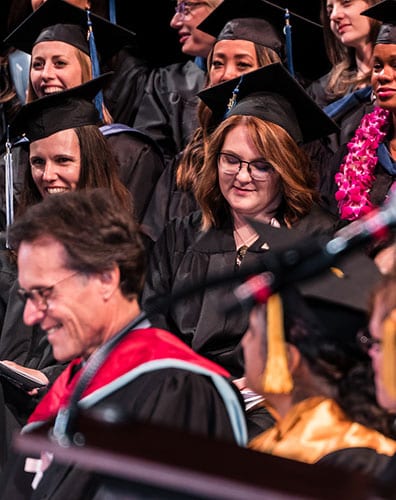 Regalia As a tradition, caps and gowns are worn by all participants at the Commencement ceremony. All regalia comes individually packaged, which will result in creasing and wrinkling. You are welcomed to order your regalia early, so you have time to steam the gown. Ironing is not recommended. Order your Regalia Each student will also purchase a tassel for the year in which they graduate. We encourage that you submit a photo of yourself in your regalia so we can showcase you!

Virtual Commencement Day Etiquette

For the ceremony to be enjoyed by all and for everyone's safety, we ask you to comply with the following:

Be respectful when participating in the chatbox
Always keep your microphone on mute.

Photographers

Below are photographers available to you if you are local to Southern California. Paul Switzer Photography will be available for traditional portraits in your cap and gown. Please find the pricing and ordering form. You may contact him directly to schedule your consultations. View 2022 Grad Photos Nave Photography will be available for private graduation photo sessions. These sessions can be scheduled directly with Nave Photography and can include multiple people. View 2022 Grad Roaming Photography

Diplomas

Since it is impossible to identify with certainty by Commencement day the students who have completed all requirements, degrees are not posted until all final grades are received; then the diploma may be ordered. Diplomas are generally ready 7-9 weeks after grades are posted in your last term. The Registrar will mail your diploma once it is available. To avoid a delay in receiving your diploma, please notify the Registrar of any address changes by submitting the Diploma Request Form and submit to

[email protected]

.
Frequently Asked Questions (FAQs)
Can students upload their photos and messages after they submit their form?
Why am I uploading a picture of myself and a message if the gradation is virtual?
We are putting together a slideshow that will be displayed during graduation for the announcers to announce your name as each slide goes by.
Where do I fill out the form?
When and where will the virtual ceremony be streamed?
June 3rd, 2022 at 5pm PST via ZOOM
How will my family and friends view the live streaming?
The Zoom Meeting ID is 980 2133 0056 (No Longer Available). Guests can start logging in as early as 15 minutes before the ceremony begins at 5pm PST.
Do you have a question that wasn't answered here?
How many guest tickets can we have?
How long is the in-person ceremony?
The event is projected to be between one hour to an hour and 15 minutes long.
As new members of Pacific College's Alumni Association, graduates are eligible to enjoy a unique community and special benefits. We invite you to visit the Alumni Webpage.