The "Writing & Citing" page is meant to help you understand how to best go about writing a college-level research paper with citations. It is structured in a Q&A format. This is to help both the novice and experienced writer find exactly what they need to write a successful paper. Some questions, you may already know the answers to, while others you may need to delve into the supplementary material provided to get a better grasp of the task at hand. We have provided numerous images, videos, and links to help explain each concept.
For the most recent APA citation and formatting information, please see Purdue Owl.
Click on one of the questions below that most closely resembles your own questions regarding the writing and citing process or expand them all to take yourself through the entire process.
Why do I need to use sources from peer-reviewed journals?
Articles in peer-reviewed journals have been examined and critiqued by experts in the field before publication. Journal referees may require clarification or substantive changes before accepting articles for publication. Articles that do not meet the journal's standards are rejected. Therefore, an article that has been published in a peer-reviewed journal has been through a rigorous process to try to ensure accuracy and validity.
Why do I have to provide citations in my papers?
Citing references in your paper distinguishes what ideas/words are your own and what idea/words belong to others. If you use the ideas/words of someone else and do not give them credit (in the form of a citation), then you are plagiarizing. Plagiarism is a form of academic theft where one person takes the work or ideas of another and passes them off as their own.
How do I know if I need to cite something?
To answer a question with a question: Are the ideas and words your own? If you are using your own words/ideas, there is no need to provide a citation. If, however, you are either using someone else's ideas or words, then you MUST cite.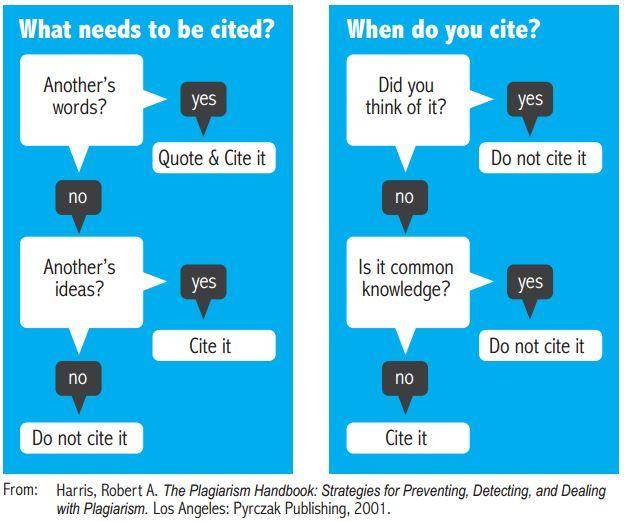 What is paraphrasing? How do I paraphrase something?
It is important to put what you read into your own words, that is, to paraphrase what you read. You must change more than a few words or phrases. You cannot simply change the order of the words in a sentence. Staying too close to the original wording is still plagiarism, i.e., stealing another's words and ideas. Be careful not to use the original author's terms and phrases without quotation marks. It is still necessary to cite the source of the ideas that you have paraphrased.
Original
"To the extent that a child is separated from its mother at an early age, a child may suffer generalized separation anxiety" (Heinz, 2009).
Paraphrase
When children are separated from their mothers when they are very young, they are likely to be afraid to leave familiar people and places. (Heinz, 2009).
What type of citation style do I use?
At PCHS, we use the APA citation format. This is a standardized way to give credit where it's due, so there is no question of the exact place you found an idea or words within a work. This involves listing several things about a work including title, authorship, year published, publisher, volume/issue, URL, and/or page numbers. All this information isn't always available, in which case you use as much of the information as you can find in your citation.
Where do I cite my references?
You will need to cite your references both within your paper and at the end, by creating a list of all the references you cited in the paper. Within the body of your paper you will provide citations indicating that the information (whether in direct quotes or paraphrased or summarized) is coming from a source other than you. These are called "
in-text citations
." These are much shorter representations of the more thorough citations you provide on your Works Cited page at the end which will be in "
reference citation
" form.
APA 7: In-text Citations (VIDEO)
Also see these related links:
How do I know the correct formatting to use for my Works Cited page?
Reference citations for your Works Cited page are much more thorough than their in-text counterparts. There are many different types of resources (in print and online) and each calls for a little bit different formatting. There are endless tutorials and examples online, but below we've linked to a few of the best to help you understand!
APA Style 7th Edition: Reference Lists (VIDEO)
Reference List
Arrange alphabetically by author's last name.
Arrange works with no author by the first significant word in the title.
Arrange works signed "Anonymous" as though "Anonymous" were a name.
REMINDER: cite your sources to avoid plagiarism
When writing your paper, you MUST identify the source of any
quotations
facts
idea or opinion that is not your own
This guide is a modified version of a guide on the Van Wagenen library website.
For additional information, consult the Publication Manual of the American Psychological Association, 7th Edition, or the APA Style 7th Edition Reference Quick Guide.
Download the Reference List Citation Format guide as a PDF
Citation to an article from a journal in APA 7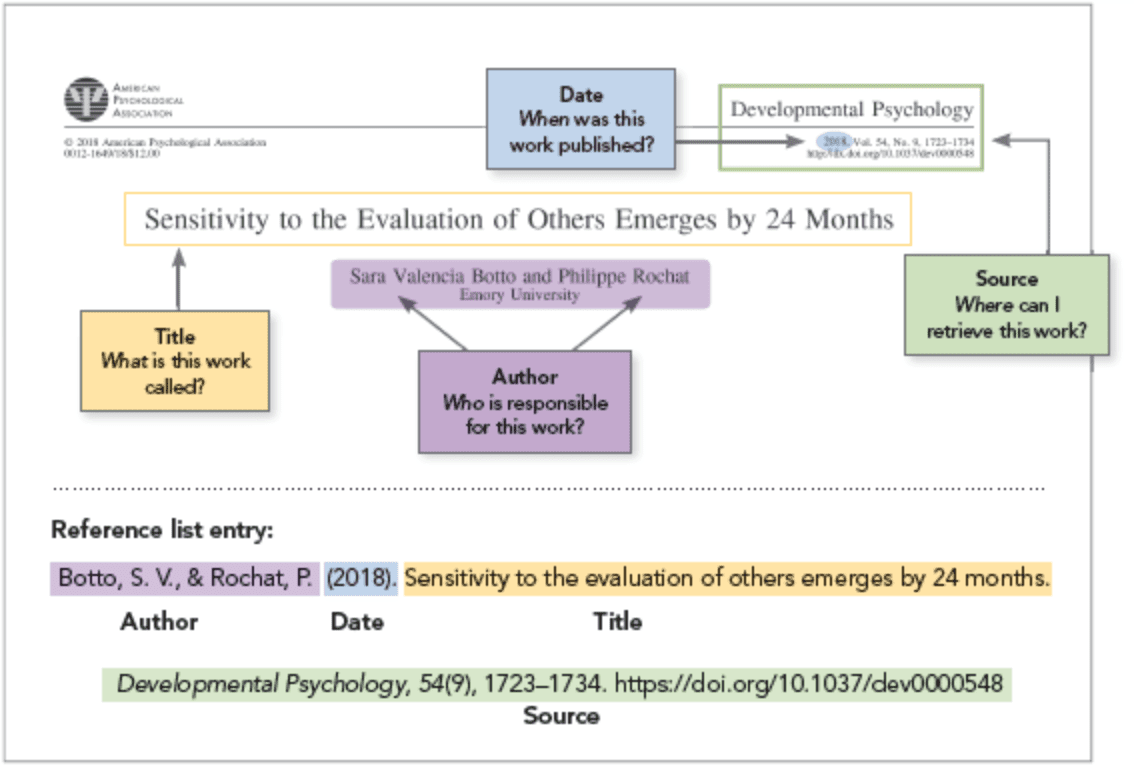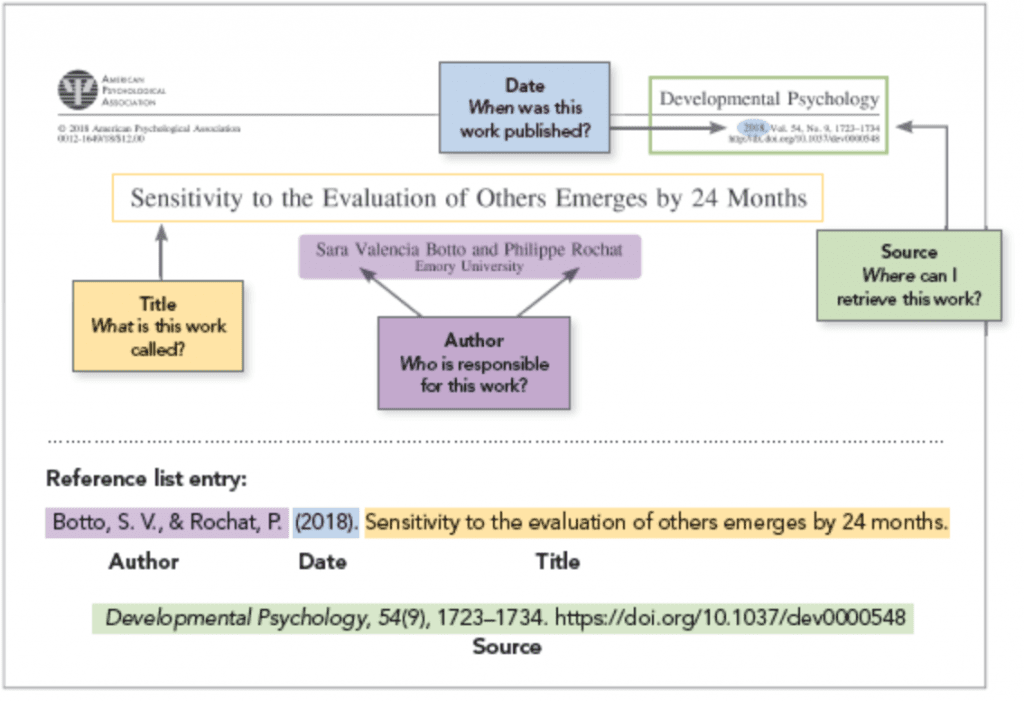 These related links detail how to cite:
Can I use a citation generator?
They are helpful, but frequently generate mistakes. The good news is that most of our databases will generate a journal article citation that will be formatted correctly and that you can easily copy/paste into your reference list at the end of your paper. ProQuest, EBSCO, and PubMed Central offer to cite an article for the user in APA style. Cochrane will cite it for you, but does
not
use APA style, so you must modify it to make it correct. ProQuest is still using APA 6 for citations, so you may need to correct the citation.
ProQuest

EBSCO

PubMed Central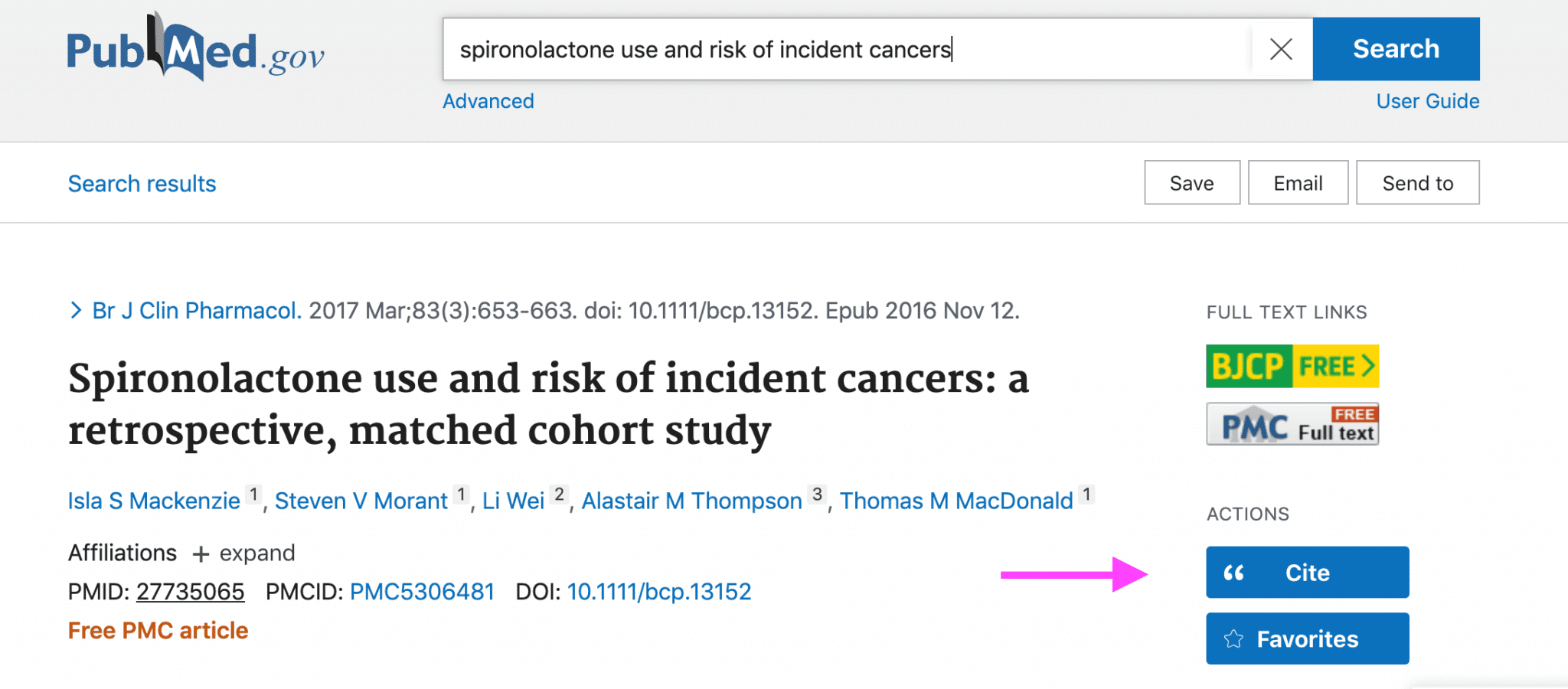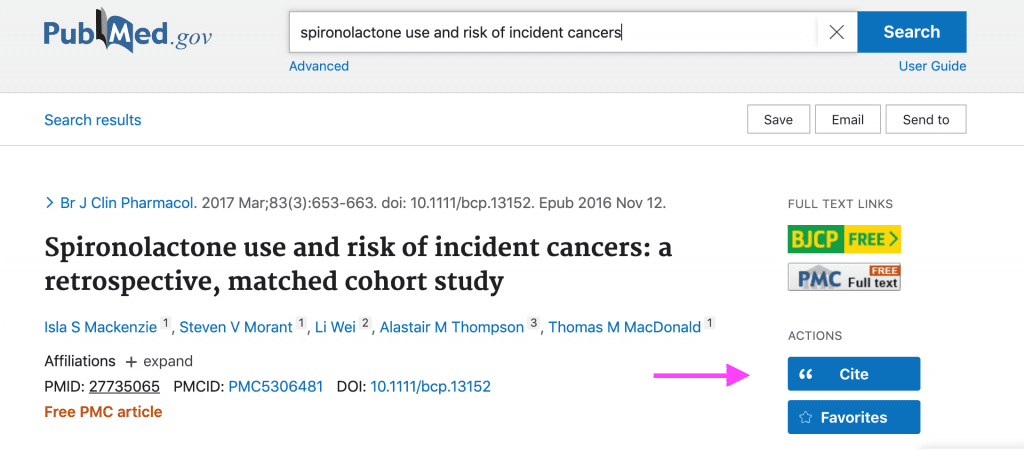 Cochrane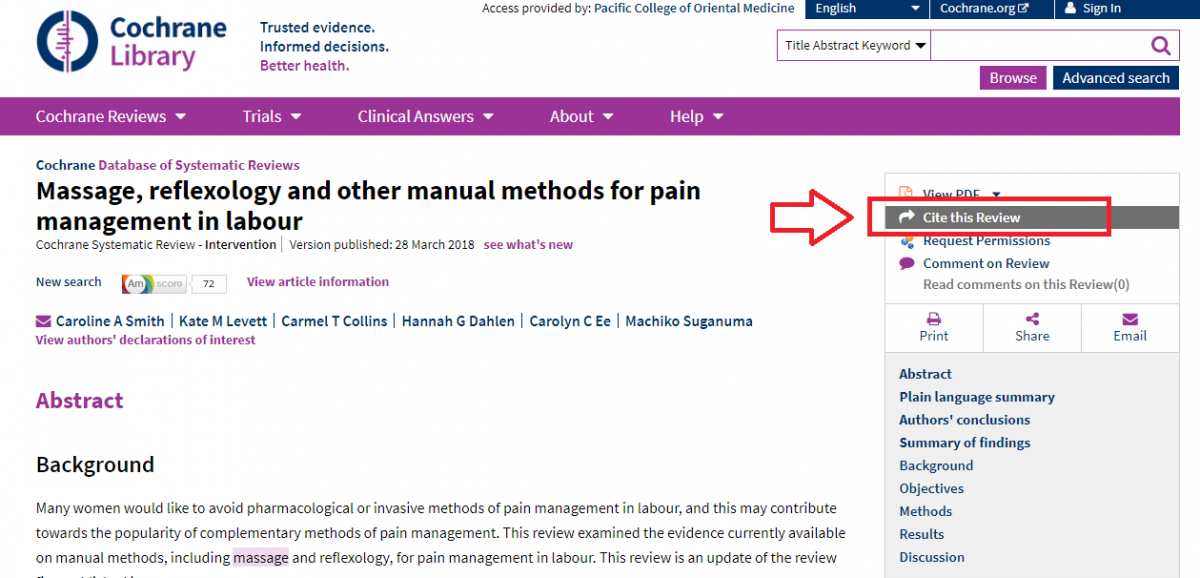 How do I format my paper so it meets APA guidelines?
When you are ready to write your paper and need to put it into a formal APA format, there are certain steps to take that ensures you have everything in order. The easiest step before you begin typing is to make sure that the document is double spaced. The image below is an example of an APA formatted title page.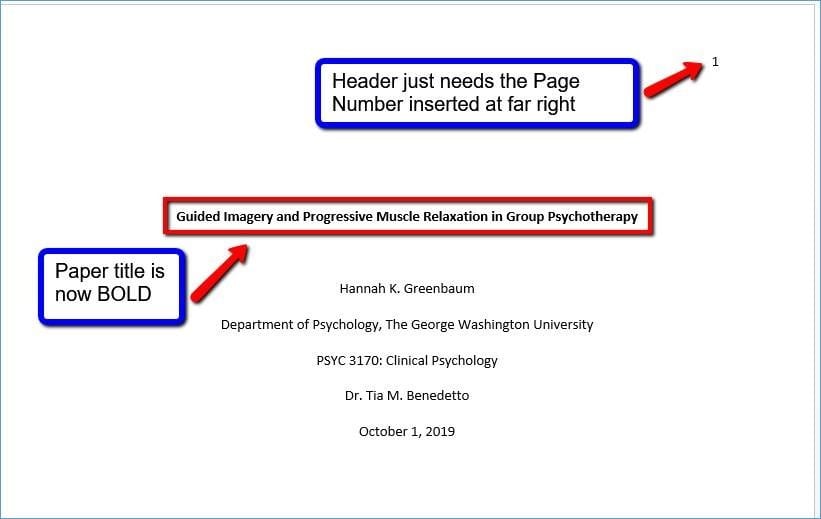 Image from Berkeley College Website
APA7 Format: Changes
Font: APA now allows other fonts besides Times New Roman 12. It recommends 11-point Calibri, 11-point Arial, 10-point Lucida Sans Unicode, 12-point Times New Roman, 11-point Georgia, or 10-point Computer Modern.
Cover Page: "Running Head" is no longer used in the header of APA papers. For student papers, APA now says only the page number is needed in the right hand corner of the header.
Titles: Your paper's title on the cover page and first page is now Bold, and written in Title Case. So are most section headings.
References
Online links: Most web addresses (URLs) at the end of a full reference no longer start with "Retrieved from". Just put the complete link, including http://, as the last item in your complete reference.
DOIs: If the citation uses a DOI instead of an URL, turn it into a link by placing https://doi.org/ before the numbers, like this: https://doi.org/10.1371/journal.pmed.1001226
Books/EBooks: The publisher location (City, State) is no longer required for print books or DVDs, just the name of the publisher. For EBooks, you don't need to put the version, such as [Kindle edition], just the URL.
In-text citations: For articles with more than 3 authors, you should put the first author's surname and "et al.", like: (Williams et al., 2018). But list up to 20 authors on the References page.
Content
Singular "They": APA now requires the use of the singular "they" or "their" as a generic pronoun to refer to someone if their gender is unknown or not relevant to what you are writing about. Also use "they" or "their" to refer to individuals who use those as their gender pronouns.
(from Berkeley College Website –https://chat.library.berkeleycollege.edu/faq/285800)
Sample papers with instructions:
OWL at Purdue
https://owl.english.purdue.edu/owl/resource/560/18/
APA's website
https://apastyle.apa.org/style-grammar-guidelines/paper-format/sample-papers
Microsoft Word has pre-made APA templates on the Office 365 web app and on their desktop platform:
You can get to Office 365 through StudentHub. Click in the left corner to find Word in your Apps.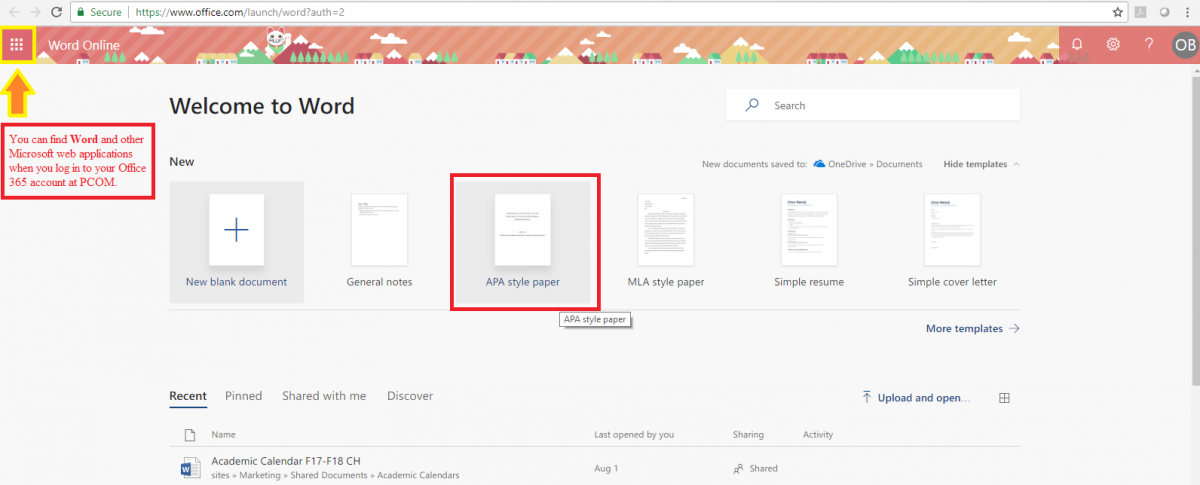 If you have Microsoft Word on your personal computer, you can find the APA style report format by searching for it as you create a new document: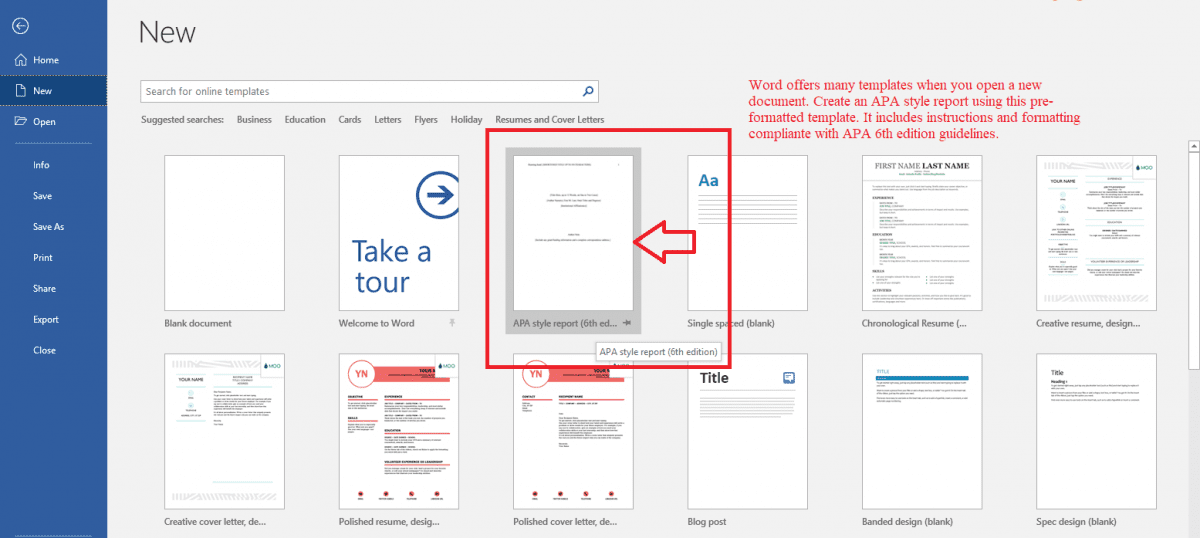 What if I've read everything on this page and STILL am having trouble?
You can
read, download, and print this tutorial
.
If you are still unsure how to cite or format in APA style, please set up an appointment with one of your friendly campus librarians:
San Diego:
Patricia Benefiel
619-736-5464
New York:
Raquel Fereres
929-373-3194
Chicago:
Janet Harper
773-477-784