MASSAGE THERAPY SCHOOL AND MASSAGE PROGRAMS
Next term starts on January 3rd, 2023!
Massage Therapy School in chicago
As the U.S. healthcare system evolves and further embraces holistic care, the growing demand for alternative-based health solutions is creating a need for alternative care professionals. The Pacific College of Health and Science massage therapy programs in Chicago are uniquely positioned to provide future healthcare professionals with both theoretical and hands-on education that blends holistic healing and the principles of modern Western medicine. Pacific College is dedicated to inspiring a deep and lasting respect for the integrity of the human body, mind, and spirit. Our massage therapy school, located in the heart of Chicago, prepares our graduates for rewarding careers in professional massage therapy and provides them with the integrated care-oriented massage techniques they need to change lives.
The certificate program is ideal for students looking to quickly prepare for employment in massage therapy and provides the training required to achieve national and state certification for massage therapy and Asian bodywork.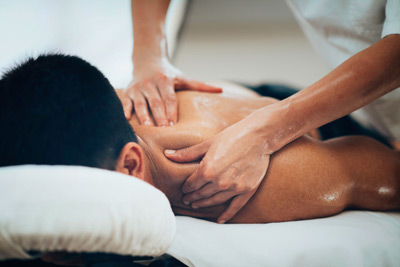 Massage Therapy Program and Course Highlights:
Why Medical and Chinese Massage Therapy Training in Chicago?
Massage therapy is one of the oldest health practices currently in use across the world and is a clinically proven treatment for a range of ailments, disorders, and anxieties. Daily stress places strain on our physical, mental, and spiritual well-being, and massage therapists use holistic massage therapy techniques that combine Eastern bodywork traditions with Western modern science to effectively improve a patient's physical and mental health. Massage therapy, as an alternative method of care, is sought after by individuals seeking to naturally restore balance among the multiple and complex systems of the human body.
Throughout the U.S., there is a growing demand for massage practitioners who can offer holistic healing that combines traditional medicine techniques with the latest evidence-driven clinical solutions. Massage therapists can apply their skills within a hospital, clinic, spa, or sports-focused environment. Graduates of the Pacific College massage therapist school in Chicago will have the competitive edge in an industry that is rapidly shifting to modern integrated care practices.
Who Should Pursue Massage Therapy Courses in Chicago?
If you have a passion for changing lives, providing alternative and holistic treatments, and helping others in need of achieving a spiritual, emotional, and physical balance, then Pacific College's massage therapy program is the ideal choice for you. Pacific College offers students the opportunity to turn their passion into a career of providing alternative and evidence-based treatments. Our programs are available to current and aspiring healthcare professionals, and by obtaining Pacific College's massage therapist associates or certificate, graduates will gain a deeper understanding of how to effectively balance the varied systems of a client's body and how to leverage massage therapy to improve a client's health and well-being.
The Pacific College Chicago massage therapy school is a perfect fit for practicing and aspiring health professionals who would like to restore their clients' physical, mental, and spiritual well-being through alternative treatments that are grounded in cutting-edge, evidence-driven solutions. As a massage practitioner in Chicago, you will be providing holistic care at the intersection of Eastern holistic healing and modern Western medicine. Our programs have been designed for students who want to stand out from the competition by excelling at both Eastern holistic healing and modern Western massage therapy techniques.
"I loved my experience and time spent at Pacific College of Health and Science, Chicago. The staff and instructors were very helpful and accommodating. This school has so much to offer an aspiring massage therapist, and the tools I've acquired have definitely given me a leg up on the competition. I am very pleased to be a part of this elite group."
– Connie Jones, Massage Therapy Program Graduate
Massage Therapy School Courses
Programs within Pacific College's Chicago massage therapy school cover the following areas:
Tui na (medical massage)
Swedish massage
Trigger point therapy
Neuromuscular techniques
Myofascial techniques
Medical and Chinese Massage Therapy Career Outlook
Career opportunities for massage therapists are expected to grow by 22 percent from 2014 through 2024. Approximately 50 percent of massage therapists are self-employed or work part time. Our graduates have gone on to work in:
Hospitals
Cruise lines
Cancer centers
Hotels
Spas
Resorts
Sports medicine and physical therapy clinics
Private practices
And more!
Massage Therapy School Cost – Chicago Campus
The tuition costs for the Pacific College massage therapy school programs vary by campus. You can see a breakdown of all the costs for each course and for the complete massage school tuition and fees by visiting our Massage Therapy School catalog for the Asian Holistic Health and Massage Programs. Page 72 itemizes the massage school Chicago tuition costs. Also shown are the cost for Books and Supplies and any fees associated with each massage program.
PCHS updates the Massage Therapy Course catalog each year so you can know the exact costs for the program you are interested in.
Since 1986, those with a calling to heal and promote overall health in the mind and body have been led to the programs at Pacific College of Health and Science. Graduates are prepared to both prevent and remedy pain, discomfort, and disease through practices such as massage therapy, acupuncture, and holistic nursing.
Pacific College prepares students for careers as healing practitioners through an intersection of Eastern healthcare practices and Western bioscience with a strong hands-on clinical component. All three campus locations feature student clinics where learning practitioners serve the needs of real clients.
Chicago, Illinois | Massage Therapy school faqs
How long is massage therapy school?
In Illinois, massage therapy school programs must include at least 600 clock-hours of education. Your massage therapy school training at the Chicago campus covers 667.5 hours of theory and clinical practice as part of a 36-unit program to be completed over three terms.
Is massage therapy school tax deductible
You may be able to deduct the tuition of your massage therapy education on your tax return. The Lifetime Learning Credit (LLC) is a deduction for higher education that can provide up to $2000, based on your income. Other potential tax deductions include certification and licensing fees, as well as professional association memberships and business start-up expenses.
Is massage therapy school easy?
Massage therapy school is accessible to most types of learners, but it still requires a certain amount of focus and studying time. In addition to hands-on classes such as Swedish massage, neuromuscular therapy, trigger point, reflexology and more, you will also need to learn anatomy and physiology, pathology as it relates to indications and contra-indications for massage, legal scope pf practice, and private practice building skills. In Chicago, Illinois, massage therapy school must include at least 600 clock-hours of education, which prepare you to take a State licensing exam.
How do I get a massage therapy license in Chicago, Illinois?
Massage therapy licensing requirements vary by state. To obtain licensure in Chicago or for another location in Illinois, massage therapy practitioners are required to complete 600 hours of massage therapy school training, as well as successfully pass either the MBLEx or NCBTMB exam.
How much is message therapy school?
The cost of massage therapy school depends on the institution. Accredited colleges offer financial aid to those who qualify. You can also apply for student loans, and find grants or scholarships online. In addition, if you are a Veteran, there are at least five education assistance programs administered by the Department of Veterans Affairs that you can apply for. Your estimated total tuition cost for the Chicago campus is right under $11,000, which includes the cost of textbooks and supplies (as of September 2022). For the most up-to-date information on cost, you can contact your massage therapy school Chicago campus.
If you think a career in holistic medicine is something you would like to pursue, contact us and speak to an admissions representative to get started on your new journey!
For more information, call (855) 866-6767 or fill out our contact form to be contacted by a Pacific College representative.
Pacific College of Health and Science – Chicago
65 E Wacker Pl Suite 2100, Chicago, IL 60601