About the speaker:
Dr. Richard Gold, PhD, MSTOM, LAc, graduated from Oberlin College in 1972 and the New England School of Acupuncture in 1978. Ever since, he has devoted his career to the study, practice, researching, teaching, and publishing in the field of East Asian medicine. Dr. Gold has pursued advanced studies in China, Japan, and Thailand, and holds a doctorate in psychology. He is one of the earliest pioneers of Thai massage therapy in the United States, Brazil, Israel and Europe, and has published several books on the topic.
Dr. Gold was one of the four founders of the Pacific College of Oriental Medicine, served on the board of the college for many years, and continues to teach at the PCHS San Diego acupuncture school. In addition, he served for over twenty years as the President and Chairman of the Board of the International Professional School of Bodywork (IPSB), where he was also a senior faculty member. In recent years, Dr. Gold has been working in the field of applied neuroscience and sound. Currently, he is the President and Executive Producer of Metta Mindfulness Music, a company devoted to creating original music to facilitate meditation, health and mindfulness.
Book Signing: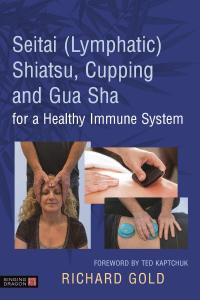 Come and meet Rick for book signing and dedication at the Pacific College booth, right by the registration table!  Schedule will be announced during the conference.
Seitai (Lymphatic) Shiatsu, Cupping and Gua Sha for a Healthy Immune System – 1st Edition
by Richard Gold (Author), Ted Kaptchuk (Foreword)
To ensure a well-functioning immune system, the lymphatic system must be healthy. This book provides detailed information on the principles and practice of techniques from East Asian medicine which vitalize and move the lymphatic system to get the immune system working at its optimal level. These techniques include shiatsu, cupping therapy and gua sha.
Highlighting the significance of the omentum (a layer of peritoneum that surrounds abdominal organs), the book describes the dynamic physiological attributes of this mostly ignored component of human anatomy. Using the author's decades of experience working in East Asian and Integrative medicine, he expertly builds a bridge between Western theories of the immune system with Asian bodywork's emphasis on abdominal treatment. Innovative and insightful guidance for students and practitioners working in Asian Healing modalities and lymphatic techniques.
For purchase and additional information, see Amazon.