About the speaker:
Dr. Jill Blakeway, DACM, LAc, is a practitioner, author, and speaker who appears regularly in the media to talk about Chinese medicine. Jill graduated from Pacific College of Health and Science San Diego acupuncture school in 1999 and is the founder and Clinic Director of the Yinova Center, a large multidisciplinary complementary medical center in New York City. She coauthored her first book, Making Babies, with a reproductive endocrinologist; so far it has been translated into six languages and remains a bestseller in its genre. Her second book, Sex Again: Recharging Your Libido, was published in 2013, and her third in 2019: Energy Medicine: The Science and Mystery of Healing. Formally the host of a CBS Radio weekly podcast called Grow Cook Heal, Jill has appeared on The Dr. Oz Show; CNN; the Early Show; Good Morning America; NBC, ABC, and Fox News; the Real Housewives of New York; and The Talk. She has also been quoted in New York Magazine, the New York Times, Martha Stewart Living, Elle, W, and Town & Country.
Book Signing: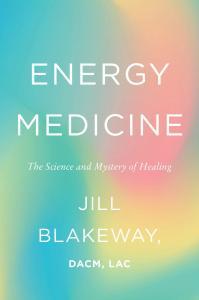 Come and meet Jill for book signing and dedication at the Pacific College booth, right by the registration table!  Schedule will be announced during the conference.
Energy Medicine: The Science and Mystery of Healing
by Jill Blakeway
The first comprehensive look at the groundbreaking field of energy medicine and how it can be used to diagnose and treat illness, from one of the world's foremost practitioners of traditional Chinese Medicine.
Today, more of us than ever are discovering the curative powers of energy medicine. Scientific studies continue to confirm its validity, and medical doctors are regularly prescribing treatments such as acupuncture to their patients. But even for those of us who have benefited from such treatments, the question remains: what exactly is energy medicine, and how does it work?
Lively, entertaining, and informative, told in Jill's funny, relatable, and wholly grounded voice, Energy Medicine bridges the gap between science and spirituality and offers a persuasive, evidence-based case that advances this ancient healing practice.
For purchase and additional information, see Amazon. 
Hear more from Jill Blakeway by checking out this exclusive Pacific Center Podcast interview!
In this exclusive interview, Jill Blakeway, author of Sex Again and co-author of Making Babies, speaks on her new book Energy Medicine with the president of Pacific College of Health and Science, Jack Miller. Jill elaborates on the power of energy medicine through correlative research from the Global Consciousness Project, created originally in the Princeton Engineering Anomalies Research Lab at Princeton University, and her own experience with energy medicine. Read more about Jill Blakeway at the Yinova Center's website.