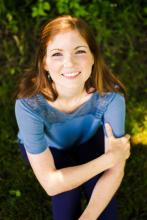 Work Address:
3717 N Ravenswood, Suite 213
United States
Area of Expertise :
Mental Health
Pregnancy, Labor & Delivery
Women's Health
Ashlie Martin uses a gentle approach in her acupuncture technique, various traditional modalities such as moxibustion and cupping, and employs traditional herbal remedies to treat a variety of conditions. Her practice has a strong focus on motherhood and family health, including gynecological issues, fertility, pregnancy concerns and postpartum recovery. She also treats a variety of other issues including digestive problems, migraines, arthritis, fibromyalgia, and emotional concerns such as grief, anxiety, depression, and stress. Ashlie is passionate about empowering her clients and caring for them as they reach toward a more balanced state of health.
Subscribe to our newsletter
Subscribe today to our bi-weekly E-zine.
Get your holistic health tips every month.