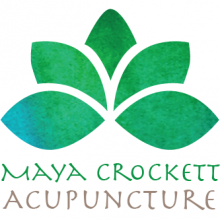 Acupuncturist
Herbalist
Massage Therapist
Work Address:
602 E Main Street Suite C
United States
Practice Name:
Maya Crockett Acupuncture
Area of Expertise :
Addictions
Cancer/Oncology
Dermatology/Skin Disorders
Immune and Auto Immune Disorders
Neurology
Sports Medicine/Orthopedics
Pregnancy, Labor & Delivery
Women's Health
Craniosacral
Thai Massage
Other Area of Expertise:
Pain, Digestion, Insomnia, Infertility
Coming from a strong background in education and empowerment, our Chinese Medicine practice focuses on suggesting life style changes along with treatments such as diet and exercise. We have a yoga studio next door, where we emphasize on mindfulness, meditation, and breath. We spend ample time with each patient to listen to their needs and concerns and come up with the best recommended course of action in order to meet their health and life goals.
Subscribe to our newsletter
Subscribe today to our bi-weekly E-zine.
Get your holistic health tips every month.