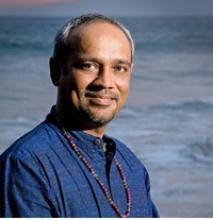 Work Address:
2210 Encinitas Blvd., Suite E
United States
Practice Name:
Pranaji Acupuncture and Ayurveda
Area of Expertise :
Classical Chinese Medicine
Immune and Auto Immune Disorders
Mental Health
Neurology
Craniosacral
I am a Doctor of Acupuncture and Oriental Medicine, Licensed Acupuncturist, Herbalist and teacher of Ayurveda and CranioSacral Work. My passion is to help in resolving health issues effectively and efficiently. By integrating Chinese Medicine, Ayurvedic Medicine and CranioSacral work I am able to treat different patients with a variety of conditions and provide natural remedies to activate mind-body's innate ability for healing and longevity. Born in India, I have spent over thirty years studying and practicing healing work in the lineage of the Siddha tradition. Traveled extensively through the Himalayan regions of Tibet, Nepal, and India, to learn meditative and healing practices. I practice a gentle style of acupuncture and integrate with Ayurveda and CranioSacral Work to enhance healing ability. Every session is personalized and based on the pulse assessment, evaluation of client's needs, constitution, and comfort. Treatment may include acupuncture; essential oils, herbal medicine; CranioSacral Work; diet and lifestyle recommendations. Dr. Prana | LAc., Dipl. OM., DAOM., MBA
Subscribe to our newsletter
Subscribe today to our bi-weekly E-zine.
Get your holistic health tips every month.