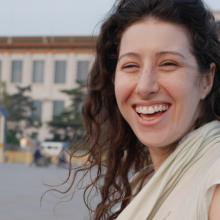 Work Address:
255 South 17th Street, Suite 1502
United States
Practice Name:
Susanna Satten Acupuncture and Yoga
Area of Expertise :
Classical Chinese Medicine
Mental Health
Pregnancy, Labor & Delivery
Women's Health
With a desire to help others nourish their health and enhance their life, Susanna has been a registered yoga teacher since 2011, and a licensed acupuncturist in since 2016. Susanna's education includes a DAc in Acupuncture, a MSAc in Acupuncture, a BSBA in Finance, and a BFA in Printmaking and Drawing. While earning her Masters of Science in Acupuncture (MSAc) degree from Pacific College of Oriental Medicine in NYC, she completed 900+ hours of clinical internships at PCOM in addition to externships at NYU Langone's Initiative for Women with Disabilities and at the TCM Hospital of Acupuncture and Moxibustion in Beijing, China. Susanna's training is in Traditional Chinese Medicine (TCM) and in Classical Chinese Medicine (CCM), as taught in the traditions of Jeffrey Yuen, an 88th generation priest of the Jade Purity School. She has studied other styles of acupuncture including Master Tung's acupuncture system, acupuncture for Facial Rejuvenation, and Stone Medicine (using crystals and minerals for healing). Susanna graduated as the valedictorian of her class. Susanna is board certified and accredited by the National Certification Commission of Acupuncture and Oriental Medicine (NCCAOM) as a Diplomate of Acupuncture (Dipl. Ac.) and she is licensed by the Pennsylvania State Board of Medicine to practice acupuncture.
Subscribe to our newsletter
Subscribe today to our bi-weekly E-zine.
Get your holistic health tips every month.