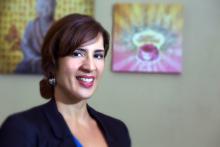 Work Address:
3320 2nd Avenue
8950 Villa La Jolla Drive C117, San Diego, 92037
United States
Practice Name:
Blu Lotus Health/ Esther Moux L.Ac.
Area of Expertise :
Addictions
Cancer/Oncology
Mental Health
Neurology
Sports Medicine/Orthopedics
Women's Health
Other Area of Expertise:
acupuncture for beauty, energy healing (reiki)
Esther M. Moux, LAc., Dipl.OM is a Licensed Acupuncturist, Herbalist, and Energy Healing Practitioner. She is an Alumni of Pacific College of Oriental Medicine, and completed training abroad in Beijing's TCM Hospital. She has done externships and worked at Camp Pendleton's Holistic Health Program, Rady's Children Hospital, San Diego Hospice, Veteran's Stand Down, and UCSD Downtown Clinic. She is also an avid practitioner of yoga and meditation. Esther has treated patients of all ages and specializes in pain management, anxiety disorders, women's health, and facial rejuvenation. Esther's journey to the healing profession began several years ago when she experienced a debilitating injury, which led to alternative treatments that restored her health. From this experience, she became committed to inspiring patients to follow their own path in health and wellness by utilizing the best of both Western and Eastern healing practices. Qualifications: MSTOM, PCOM, San Diego, 2012; National Certification Commission for Acupuncture and Oriental Medicine (NCCAOM), Diplomate in Oriental Medicine, 2013; Training for Facial Rejuvenation protocols with Mary Elizabeth Wakefield and Dr. Yuan Wan of Chengdu Hospital; Training under Dr. Barry Xin, diabetes expert from Beijing University of TCM; Training under Orthopedic Surgeon, and acupuncturist from Shanghai, Dr. Shou Xin Wu for assessment and diagnosis of chronic pain. Mind-Body Training with Dr. Milligan at Naval Hospital Balboa.
Subscribe to our newsletter
Subscribe today to our bi-weekly E-zine.
Get your holistic health tips every month.