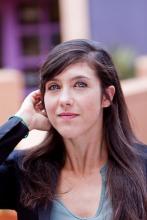 Acupuncturist
Herbalist
Massage Therapist
Work Address:
2835 Camino Del Rio South
Suite 215
United States
Practice Name:
To The Point Acupuncture San Diego
Area of Expertise :
Sports Medicine/Orthopedics
Women's Health
Sarah Sanger grew up in the mountains of San Diego. Yes, there are mountains in San Diego. She got her Master's Degree in Acupuncture and Herbology at Pacific College of Oriental Medicine. She became inspired to do so after falling ill and receiving much relief from acupuncture and herbs. Her experience observing nature while growing up in the mountains has helped her in observing the natural body and how to best use acupuncture to help the body heal itself. In her spare time, Sarah likes to climb, practice yoga, and ride bicycles
Subscribe to our newsletter
Subscribe today to our bi-weekly E-zine.
Get your holistic health tips every month.