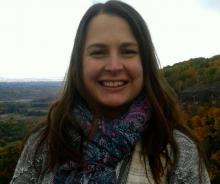 Acupuncturist
Herbalist
Massage Therapist
Work Address:
2280 Western Avenue
Building #2
United States
Practice Name:
Wellness Roots Healing Arts
Area of Expertise :
Sports Medicine/Orthopedics
Pregnancy, Labor & Delivery
Women's Health
Other Area of Expertise:
Birth Doula, Prenatal and Postnatal Massage Therapy
Elizabeth DiNapoli, LAc, LMT, Dipl. OM, owner of Wellness Roots Healing Arts in Guilderland, NY, is a licensed Acupuncturist and Massage Therapist, and board certified in Acupuncture, Chinese Herbology, and Oriental Medicine by the National Certification Commission for Acupuncture and Oriental Medicine (NCCAOM).  Liz earned a Masters of Science in Traditional Oriental Medicine and an Associates in Massage Therapy from Pacific College of Oriental Medicine in New York, and a Bachelor of Arts in Philosophy from Villanova University. Liz's acupuncture treatment philosophy incorporates Traditional Chinese Medicine, Five Element Constitutional Acupuncture, and a variety of Classical Teachings. Her style of bodywork blends Eastern and Western modalities including Swedish, Deep Tissue, Myofascial Release, Trigger Point Therapy, Shiatsu, Thai, TuiNa, and Aromatherapy. As a former, long-time sufferer of neck and back pain, Liz has a special affinity for working with these areas of the body.  Liz loves working with Moms! She is a DONA International Trained Birth Doula, certified in Prenatal and Postnatal Massage, and has trained in Acupuncture for Labor and Delivery under the renowned Claudia Citkovitz, L.Ac. Liz is also a Reiki Master of the Usui Reiki Ryoho Lineage. Before moving up to the Albany Capital Region to open up Wellness Roots Healing Arts, Liz began her career in the healing arts working at Cornerstone Healing and Massage Williamsburg in Brooklyn.
Subscribe to our newsletter
Subscribe today to our bi-weekly E-zine.
Get your holistic health tips every month.