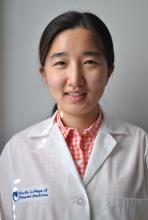 Practice Name:
Sonia Lee Acupuncture & Chinese Medicine
Area of Expertise :
Classical Chinese Medicine
Immune and Auto Immune Disorders
Mental Health
Pediatrics
Pregnancy, Labor & Delivery
Women's Health
Dr. Sonia Lee, DACM, L.Ac. is a NY State Licensed Acupuncturist and is Nationally Board Certified in Acupuncture and Chinese Herbal Medicine by National Certification Commission of Acupuncture and Oriental Medicine (NCCAOM) the highest level of certification available. She graduated with honors from Pacific College of Oriental Medicine with Masters of Science in Traditional Oriental Medicine (MSTOM), New York and completed her Doctor of Acupuncture and Chinese Medicine (DACM) at Pacific College of Oriental Medicine, San Diego. She gained her channel palpation skills with Yefim Gamgoneishvili, women's disease and treatment with Mingxia Li, Chinese herbal theory with John Pai and Helen Zhang, Pediatrics in Chinese Medicine with Tom Nash and Chinese Philosophy with Peizhu Cheng. She has inspired by an Ancient Chinese Doctor, Li Dong Yuan (Jin Yuan Dynasty / 1180 - 1252 A.D) and continues learning and researching about better treatment based on Earth School. Her area of focus includes digestive problem, women's disease, pain management, emotional problem, allergies, hypertension and more. As a parent of her child, she truly understands parents' struggle and concern about their children's health. She also treats pediatric patients with her gentle approach using other Chinese medicine modalities such as Shoni Shin, Acupressure and Chinese Herbal Medicine.
Subscribe to our newsletter
Subscribe today to our bi-weekly E-zine.
Get your holistic health tips every month.